This site contains affiliate links. If you click and purchase, we may earn a small commission at no extra cost to you. Read our full disclosure policy.
There is never a shortage of things to do at Smith Mountain lake both on and off the water throughout the year. Prized for its natural beauty and wide variety of recreational activities, SML is a haven for outdoor enthusiasts.
In addition to boating and watersports, here you'll find exceptional golf, hiking, swimming, fishing and sailing. We also have abundant indoor activities (perfect for rainy days), free attractions and excellent day trip destinations.
Smith Mountain Lake State Park
Even though Smith Mountain Lake is the second largest lake in Virginia, SML State Park is not just for water enthusiasts.
In addition to traditional water sports like swimming, fishing, boating and boat launching, State Park guests enjoy hiking, camping, biking, picnicking and more.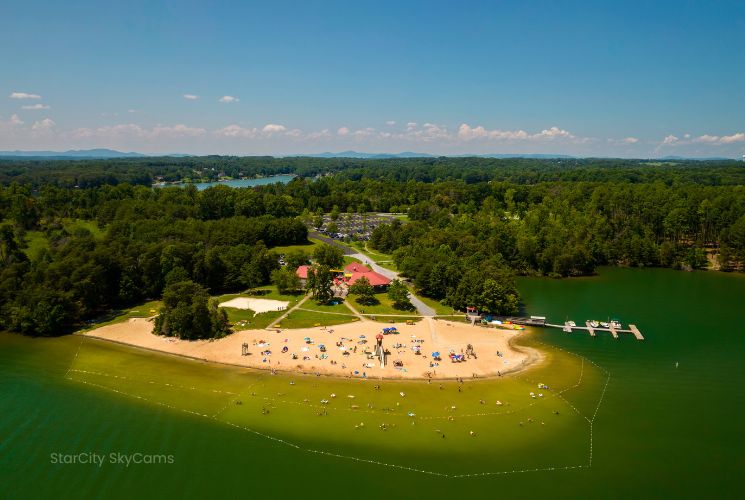 Smith Mountain Lake State Park was established in 1967. Construction began in 1975 and the park was opened to the public in 1983. There's a visitors' center with many interesting exhibits, including one detailing the history and folklore of Smith Mountain Lake.
There are also hiking trails, fishing (which requires a Virginia Fishing License), swimming at a 500-foot-long beach, picnic areas, RV hook-ups, 50 primitive campsites, cabin rentals, and assorted programs such as night hikes, canoe trips and wilderness skills training. The park totals 1,248 acres with approximately 16 miles of lakefront.
LOCATION: SML State Park is located in Bedford County, Huddleston, Virginia, on the northern side of the lake, off Rt. 626 (Smith Mountain Lake Parkway). Get directions.
For more information, call 540-297-6066 or 800-933-PARK or visit the SML State Park website. Download a trail guide.
Smith Mountain Lake Community Park
The 37-acre Smith Mountain Lake Community Park opened in June 2007. Funded by Franklin County Parks and Recreation, it provides a family oriented, ADA equipped facility for fishing and family recreation.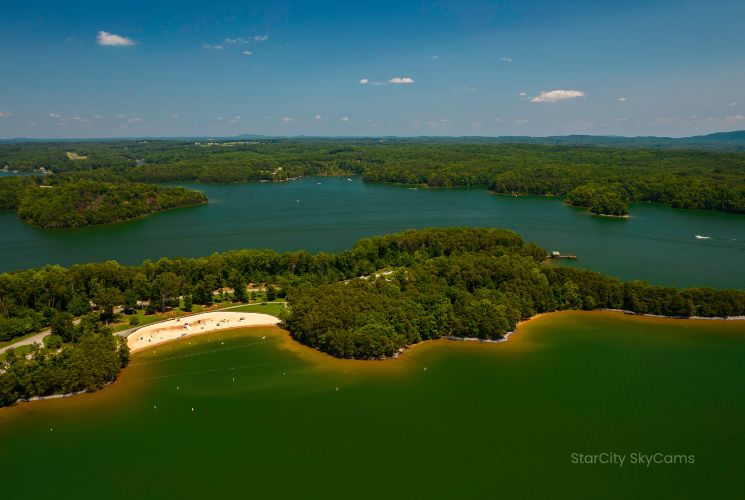 The park's partly-covered fishing pier is the largest at SML, and is located in a spot known for striped bass. There's also a hiking trail, picnic shelter, public beach, bath house and more than 100 parking spaces.
The Rotary Club of Smith Mountain Lake created and maintains a playground within the park that provides equipment for children, including those of ADA families.
Entry to the park is free but there is a small fee to use the beach/swimming area ($3 per adult with children 3 and under free). Children ages 14 and under must be accompanied by a responsible adult while on the beach. Only cash is accepted.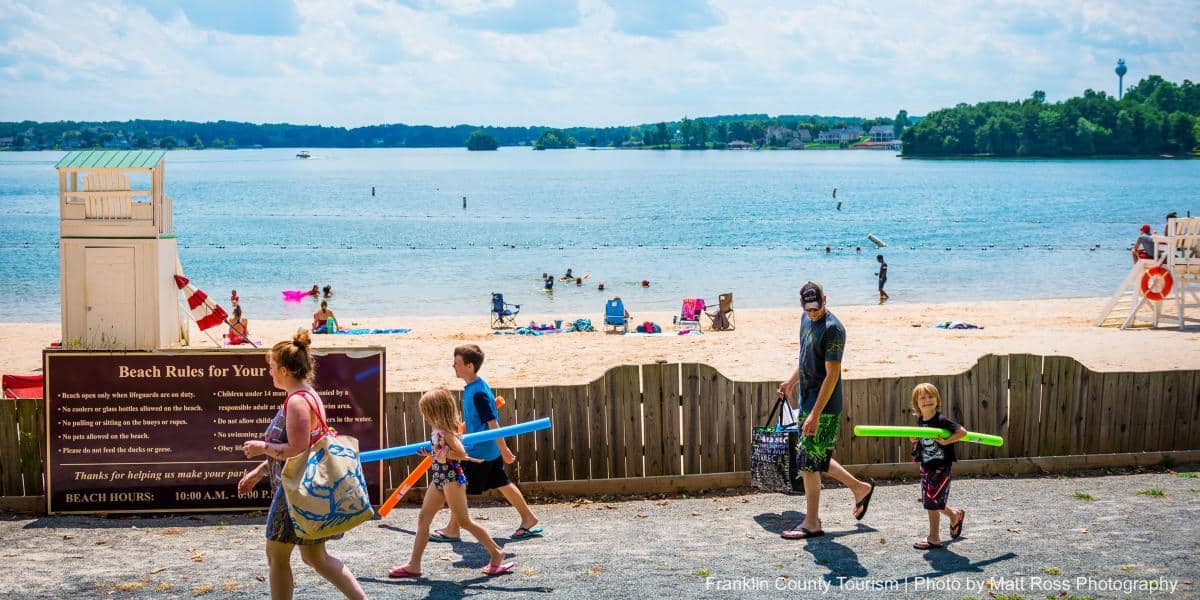 LOCATION: Franklin County's park is located on the south side of the lake, off Rt. 616 (Scruggs Rd.). From Rt. 616, turn left on Rt. 949 (Bluewater Dr.), right on Saunders Farm Rd., right on Winding Waters Rd., then left on Parkway Dr. Follow Parkway Dr. to the park. Get Google Map directions here.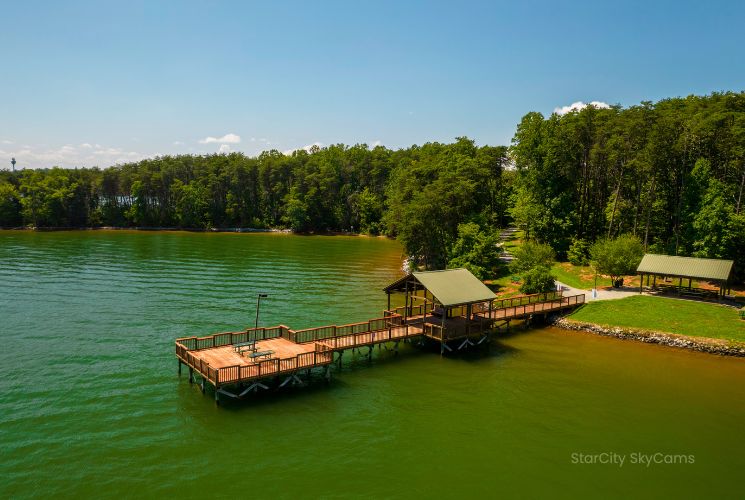 Smith Mountain Dam Visitors' Center
Another popular attraction at SML is Appalachian Power Company's Smith Mountain Dam Visitors' Center. More than one million people have visited since its opening in May of 1967.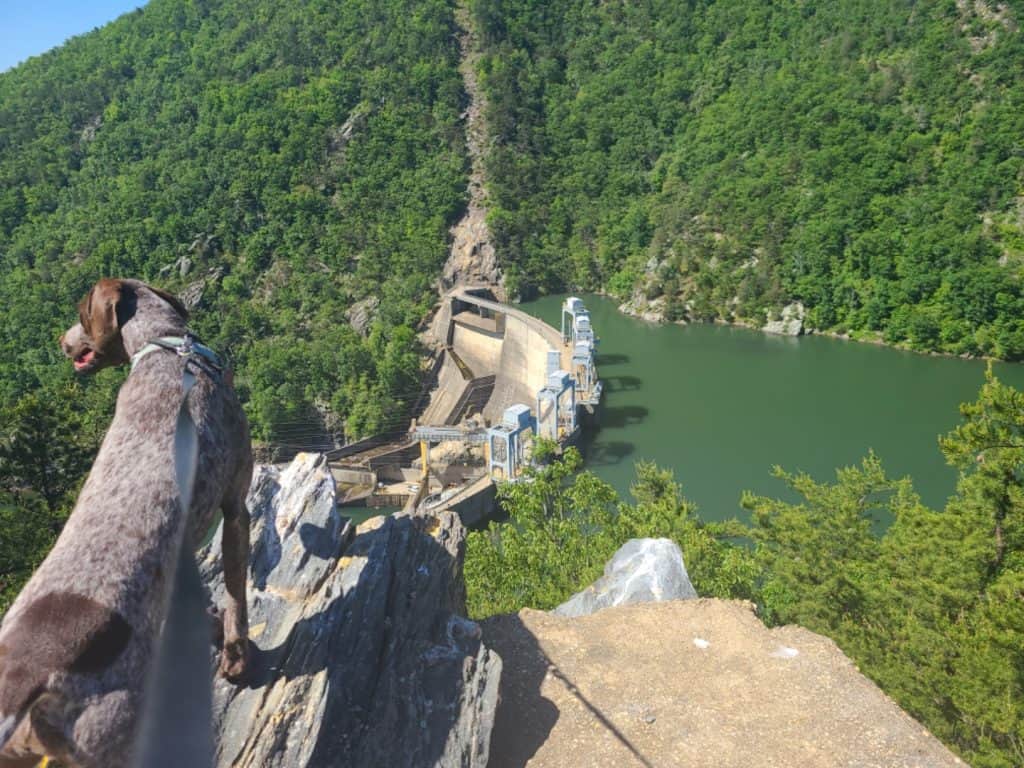 At the Center, you can see an audio-visual presentation that shows how the dam was built. There's also a wall mural, showing Smith Mountain Gap – now filled with water – before construction of the dam.
Models of the Smith Mountain Lake and Leesville dams describe the pumped storage principle. There are many more exhibits that show you how the dams produce electricity, offering an educational experience for lake visitors of all ages.
There's no admission fee for the Center, but hours vary so please call to confirm. Reservations can be made for group tours.
LOCATION: Smith Mountain Dam Visitors Center is located at the eastern edge of the lake in Pittsylvania County, off Rt. 908 at 2072 Ford Rd., Sandy Level, Virginia. Follow Rt. 626 to Rt. 751, where you'll see a sign to Smith Mountain Dam Visitors Center. Call 540-985-2587 for hours. Get Google Map directions here.
Read more here about how the dam works.
The Blue Ridge Parkway
While visiting Smith Mountain Lake, you can also drive the Blue Ridge Parkway; three entrances are located near the lake.
The Blue Ridge Parkway is the most frequently visited park in the USA's National Park System. More than 14 million visitors travel its road and enjoy the Blue Ridge Parkway every year.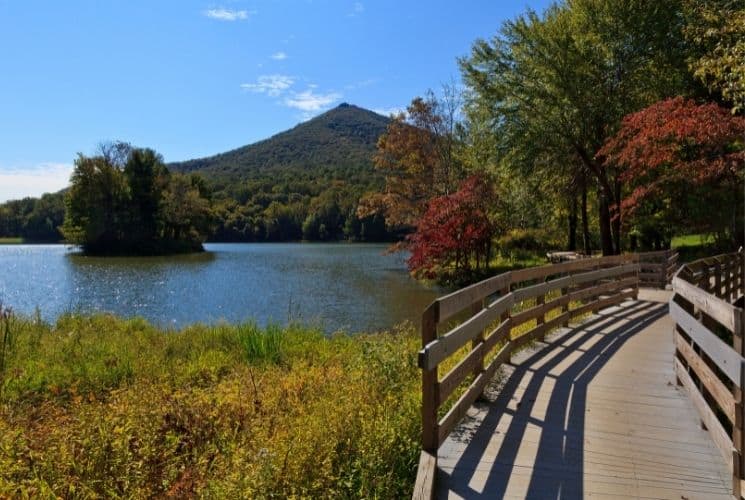 Within the 469-mile-long Blue Ridge Parkway are 15 visitor centers, plus cabins, lodges, restaurants, campgrounds, picnic areas, trails, overlooks, and private facilities.
Park visitors can enjoy hiking, waterfalls, beautiful nature life, including wildflowers in the spring and beautifully colored trees in the fall, cultural and historical demonstrations, photography, guided walks and tours, traditional mountain music programs, birdwatching, and bicycling.
LOCATION, Northern Entry: From Moneta, Virginia, follow Rt. 122 north to Bedford, then Rt. 43 northwest until it intersects the Blue Ridge Parkway.
LOCATION, Central Entry: From Moneta, Virginia, follow Rt. 122 north toward Bedford, then Rt. 24 west until it intersects the Blue Ridge Parkway.
LOCATION, Southern Entry: From Moneta, Virginia, follow Rt. 122 south to Rocky Mount, then Rt. 220 north until it intersects the Blue Ridge Parkway.
Booker T. Washington National Monument
Many lake visitors stop to visit the Booker T. Washington National Monument in Hardy.
The monument is one of only 32 African-American history sites of the 425 National Park Service units in existence. It was constructed in June of 1957 by Presidential Proclamation.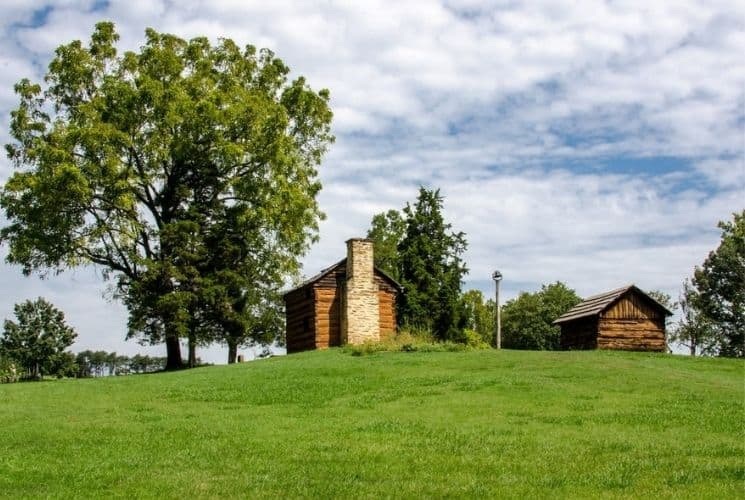 The park commemorates the life of Booker Taliaferro Washington, who was born a slave on the Burroughs tobacco plantation in 1856 and died in 1915.
After being freed at age 9, he left the plantation to pursue an education. He is now remembered internationally as an educator, author, orator, college president, and spokesman for African-Americans.
The Booker T. Washington National Monument, located near Westlake Corner, includes preserved plantation buildings – slave quarters, a tobacco barn, a smokehouse, and a tool shop. There are also farm animals – pigs, ducks, turkeys, geese, chickens, and cows – for children (and their parents) to enjoy.
The monument is free and open year-round from 9 a.m. to 5 p.m., excluding Thanksgiving, Christmas, and New Years.
LOCATION: Franklin County, Virginia, 12130 Booker T. Washington Hwy., Hardy, Virginia 24101. 540-721-2094. Get Google Map directions here.
National D-Day Memorial
June 6, 1944, forever changed the course of history. Yet in the United States, there was no national memorial to D-Day … until the summer of 2001, when the architecturally stunning National D-Day Memorial opened in nearby Bedford, Virginia.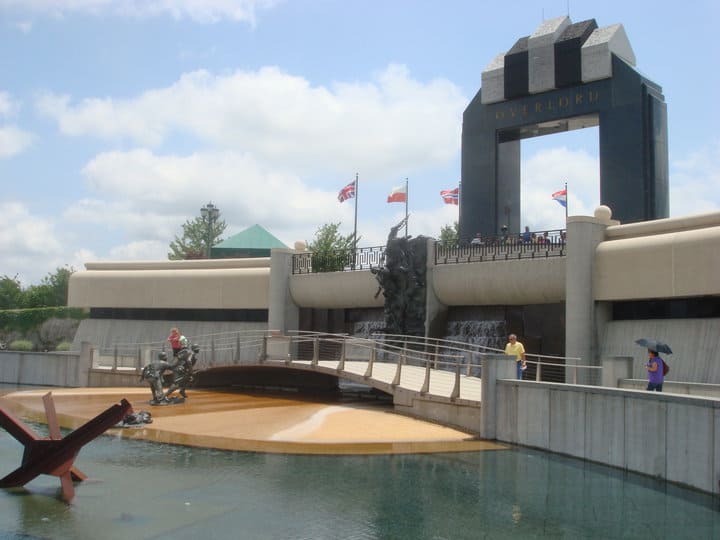 The National D-Day Memorial Foundation is a nonprofit educational organization established to maintain a memorial complex for the nation's remembrance of D-Day. The Foundation exists to memorialize the valor, fidelity, and sacrifice of the Allied Armed Forces on D-Day, June 6, 1944.
The multi-million dollar memorial is a moving tribute to the thousands of young men who gave their lives on the beaches of Normandy France to ensure freedom and democracy worldwide.
Bedford, Virginia, was chosen as the home for the memorial because the town lost the most men per capita of any United States municipality on D-Day.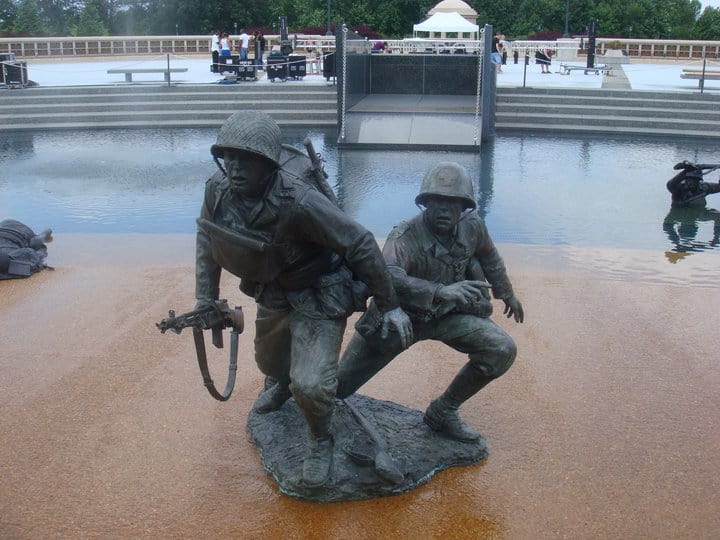 Take your camera, and be sure to capture the beautiful view of the Blue Ridge Mountains – including the Peaks of Otter – from the grounds of the Memorial.
LOCATION: The National D-Day Memorial is located in Bedford County, Virginia, about 30 minutes' drive north of Smith Mountain Lake. The memorial is located at the interchange of State Routes 460 Bypass and 122, in the city of Bedford, between Roanoke and Lynchburg, Virginia. 540-586-DDAY. Get Google Map directions here.
Other nearby history and science attractions
The Blue Ridge Institute & Museum at Ferrum College is open year-round, but hours vary. This free museum highlights traditional crafts, music and folk heritage of the Blue Ridge region.
The Jubal A. Early Homeplace (c. 1814) near Boones Mill has been restored and is open to the public for educational exhibits and special events. Early was a confederate general from Franklin County who served in the Army of Northern Virginia under Robert E. Lee and saw more combat than any other Confederate general.
The Crooked Road is a 330-mile driving trail that winds through the mountains of Southwest Virginia and explores this region's rich heritage of traditional music. Along the way you'll find opportunities to enjoy live music, museum displays, dancing, historical sites, live radio shows, instrument making, shopping and more.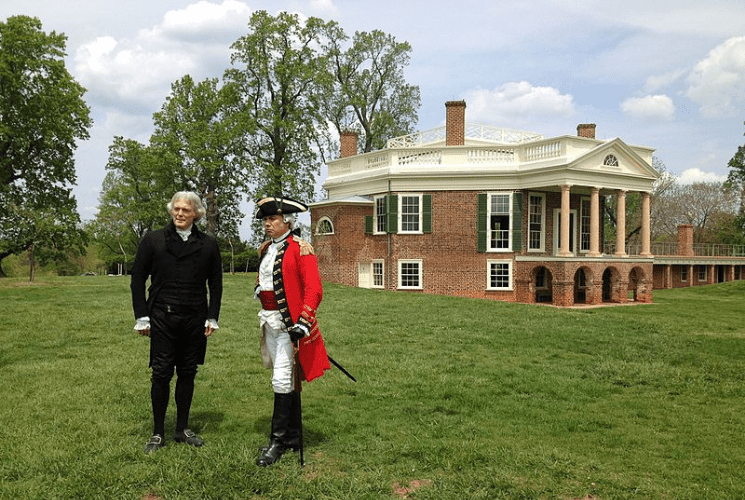 Thomas Jefferson's Poplar Forest, the private retreat of our third president is open 10 a.m. to 5 p.m. daily, March 15-Dec. 30. Jefferson's octagonal home and plantation is located in Forest, Virginia, between Bedford and Lynchburg, north of Smith Mountain Lake. 434-525-1806.
At the Virginia Museum of Natural History in Martinsville you'll find award-winning exhibits, ground-breaking scientific research and educational programs for all ages. Open year-round, the museum offers self-guided tours and discounts for groups of 10 or more.
Appomattox Court House National Historic Park, open year-round. Visit the site where Robert E. Lee surrendered the Army of Northern Virginia to Ulysses S. Grant. Located about 90 minutes northwest of Smith Mountain Lake. 434-352-8987.
Science Museum of Western Virginia and Hopkins Planetarium includes a parakeet garden plus exhibits on physics and chemistry, the human body, and much more. 1 Market Square SE in Downtown Roanoke. See website for fees and driving directions. 540-342-5710.
Raise a glass to the thriving hops, grapes and spirits scene in and around the Smith Mountain Lake region!
Here you'll enjoy charming wineries with breathtaking views, delightful breweries with distinctive styles, and trendy distilleries serving small-batch spirits with a dash of Franklin County's infamous bootlegging history.
Wineries at Smith Mountain Lake
Escape for a day of wine tasting at Smith Mountain Lake at one of these scenic vineyards: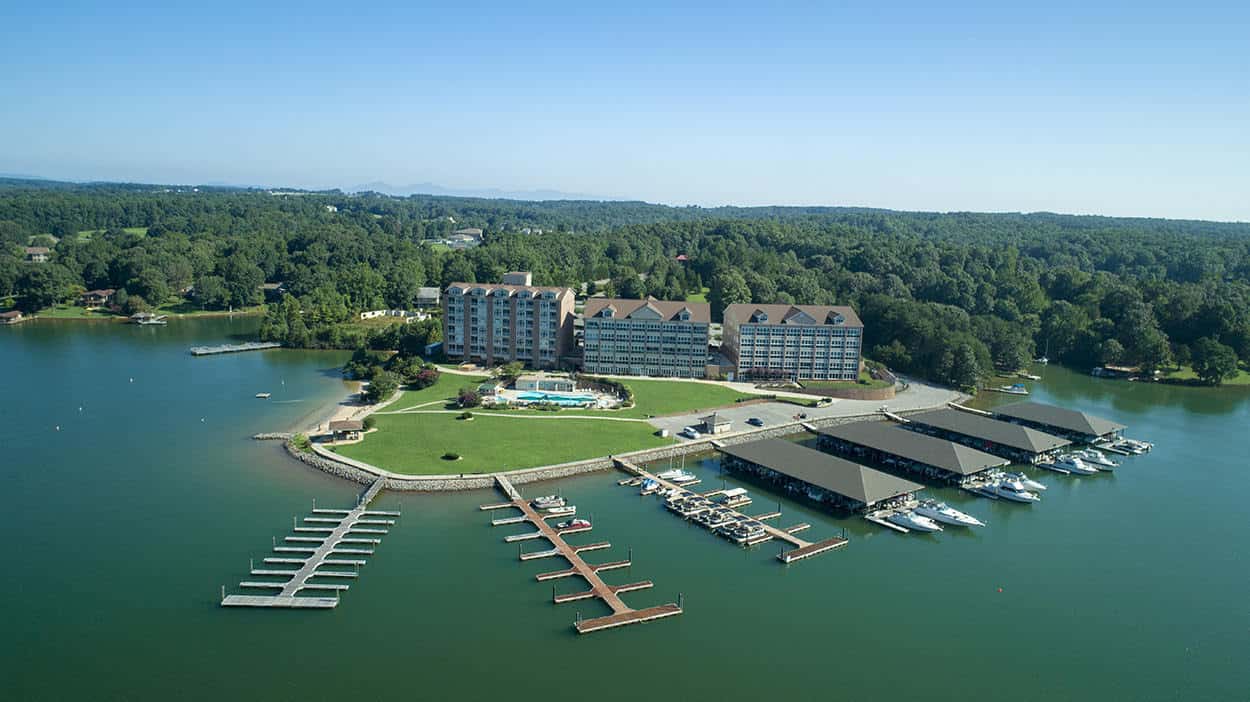 SML Wine Festival
The Smith Mountain Lake Wine Festival is the lake region's largest and most anticipated annual event. It takes place each year in September and includes wine tastings, artisan vendors and live music by national, regional and local bands.
Craft breweries at Smith Mountain Lake
For craft brew lovers, you'll find a number of outstanding brewpubs around the region, including:
Venture out a little further to Roanoke and Lynchburg to enjoy award-winning craft beer from Big Lick Brewing Company, Parkway Brewing Company, Three Notch'd Craft Kitchen and Brewery, A Few Old Goats Brewing, Starr Hill Pilot Brewery, Olde Salem Brewing Company, Twisted Track Brewpub, Golden Cactus Brewing and Apocalypse Ale Works.
Distilleries around Smith Mountain Lake
Known as the "Moonshine Capital of the World" for its once-burgeoning bootlegging business, Franklin County was the setting for Matt Bondurant's 2008 novel "The Wettest County in the World," which was later turned into the independent film "Lawless" starring Shia LaBeouf, Jason Clarke and Tom Hardy.
Of course, it's all legal now and three area distilleries offer tastings of small-batch spirits straight, on the rocks or as part of a number of distinctive and traditional cocktails.
Many marinas and independent operators offer Smith Mountain Lake boat rentals. You'll find pontoon boats starting at $200 for 8+ hours, plus ski boats, personal watercraft (commonly referred to as Sea-Doos, Jet Skis and Waverunners), fishing boats, runabouts, houseboats and more.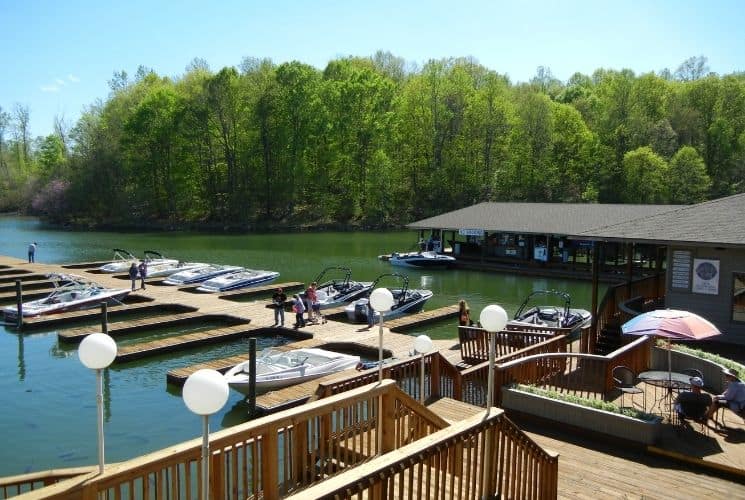 If you bring your own boat, you can launch it at private marinas. Check our map of free public boat ramps. Either way, bring your fishing and watersports gear and plan a fun-filled day on Smith Mountain Lake.
You may also enjoy: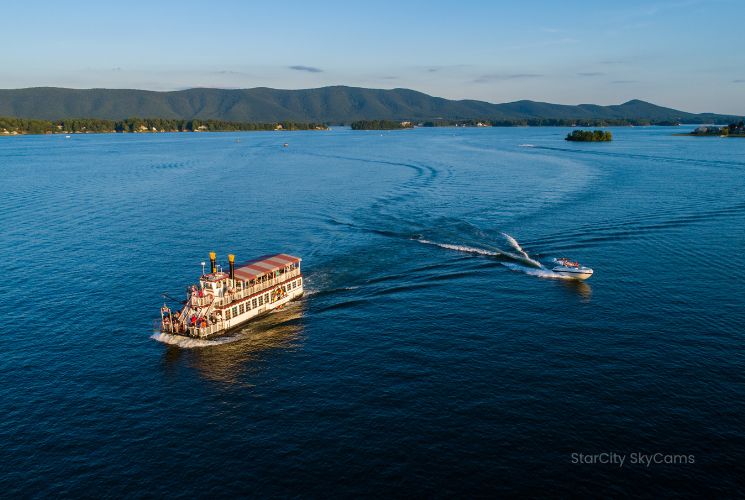 To view lakefront scenery and homes from the water (April-December), you can cruise the Virginia Dare, a 19th century side paddlewheeler.
The two-hour cruise, which starts near the State Park, covers 10 miles of the easternmost shores of SML, including views of Smith Mountain Dam. Lunch or dinner are available onboard; there's also an inexpensive sightsee-only option. 540-297-7100.
Read more: Virginia Dare Cruises: A Fun and Easy Way to Experience Smith Mountain Lake
Sailing is popular at the lake, especially near the dam where the water is widest and winds are strongest. If you're not already a sailor, you can learn to sail at Smith Mountain Lake Sailing School (Pete Phillip, Director, 540-719-0009). Pete also offers chartered sails.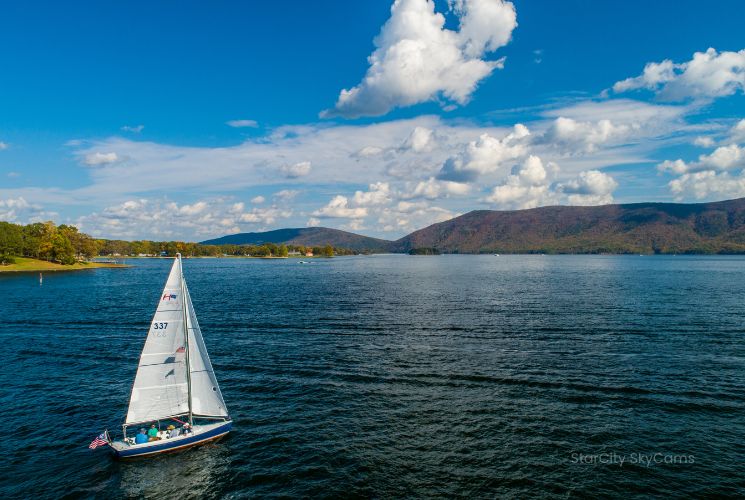 Smith Mountain Lake stocks striped bass, smallmouth bass and largemouth bass and is home to crappie, catfish, and muskellunge. Elusive walleyes breed naturally in small numbers. SML's neighbor Leesville Lake holds the Virginia state freshwater fishing records for a 53 pound, 7-ounce striped bass.
Bassmaster rates SML among the USA's best bass lakes in its Northeastern Division, which stretches from Virginia to Maine. ESPN has sponsored and nationally broadcast the Blue Ridge Brawl Pro Tournament (a Bassmaster Elite Series Event) at Smith Mountain Lake – and has awarded more than $1 million in prizes here.
There are more than a dozen guides who can help you to catch gamefish at SML. Fishing guides include:
If you plan to fish here, a Virginia State Fishing License is required. You can buy and print one online today at Virginia Department of Wildlife Resources – or buy one in person at the Kroger store at Westlake near the intersection of Rt. 616 (Scruggs Rd.) and Rt. 122 (Booker T. Washington Hwy.)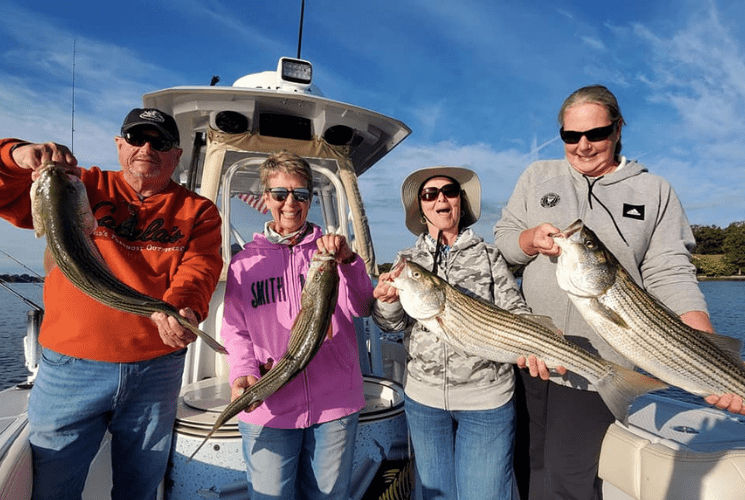 Golf is a prime attraction at the lake. Two private waterfront golf courses serve members of The Waterfront and The Water's Edge subdivisions. Two public golf courses serve vacationers – and SML residents who wish to tee it up:
Mariner's Landing is an 18-hole, par 72, 5,170-7,155 yard championship golf course designed by Robert Trent Jones. Open year-round, weather permitting; Bedford County, 540-297-7888.

Copper Cove Golf Club (formerly The Westlake Golf & Country Club) is an 18-hole, par 72, 6,511-yard golf course designed by Russell Breeden. Open year-round, weather permitting; Franklin County, 540-721-4214.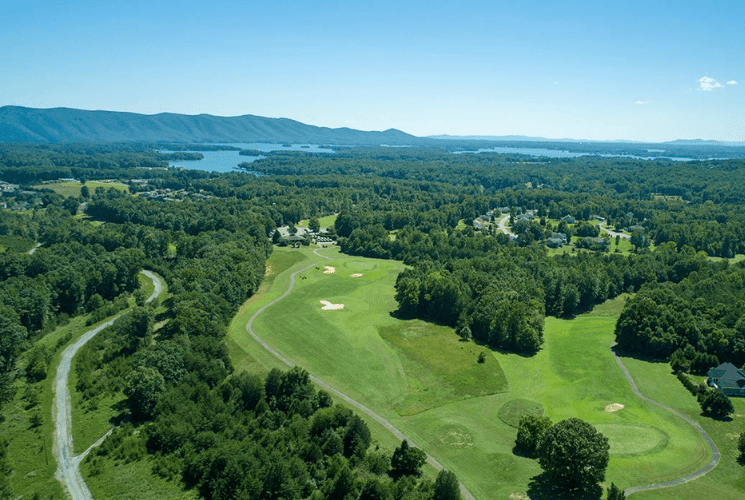 Private Golf Courses at Smith Mountain Lake
The Waterfront Country Club is an 18-hole, par 71, 4,777-6,684 yard championship golf course designed by George Dillon of the Fazio Design Group. Open year-round, weather permitting; Franklin County, 540-721-2653. The fairways were converted to Zeon Zoysia in 2021 to create a premier playing surface.

The Water's Edge Country Club is an 18-hole, par 72, 5,837-6,967-yard golf course designed by R.F. Loving Jr. and renovated from tee to green in 2007 by Pinehurst, N.C.-based architect Richard Mandell. Open year-round, weather permitting; Franklin County, 540-576-1494.
For some good, old-fashioned family fun, visit a nearby Smith Mountain Lake alpaca farm or retail store. These agritourism businesses allow you to expand your knowledge on these calm, tamed creatures and learn about the significance of alpaca fabrics. Numerous farms in the region offer informative tours and organize exclusive activities.
SML YMCA
The SML branch of the Franklin County YMCA offers full cardio and strength training, free weights, circuit training, personal training, aerobics, aerobics classes, racquetball, indoor tennis, tennis lessons, a full gym with walking track, basketball and racquetball training clinics, children's programs, a nursery, and more.
Visiting YMCA "AWAY" members are welcome for up to 12 days. For others, your first visit is free. Extended access for lake vacationers is available to families by the week, or to individuals by the day.
This YMCA is located in LakeWatch Plantation off Rt. 122, between Westlake and Hales Ford Bridge, near the Bank of Botetourt. 293 Firstwatch Dr., Moneta, Virginia. 540-721-9622.
Carilion Wellness Center
The Westlake Carilion Wellness Center (Franklin County) offers a full complement of fitness equipment and classes, plus an aquatics center with a 25-yard swimming pool, therapy pool, and hot tub. For families visiting Smith Mountain Lake or considering permanent membership, short-term memberships are available; call for details. 157 Westlake Rd., off Rt. 122 (near Kroger), Moneta, Virginia. 540-719-3150.
Body Shoppe Fitness + AllCore360°
Body Shoppe Fitness is a fitness studio at Westlake Corner that offers personalized, customized, safe and fun workouts and programs designed to meet your fitness goals. The facility is also home to the region's only AllCore360°, a state-of-the-art machine that trains all of the body's core muscles with a no-impact, isometric, balanced and coordinated technique. Lake Plaza, 130 Scruggs Road, Suite 206, Moneta, Virginia 24121. 540-721-1200.
LAT Wellness Studio
LAT Wellness Studio offer one-on-one and small-group personal training, as well as special multi-week sessions such as yoga, barre, and boot camp at its Halesford Center studio. 16483 Moneta Rd., Unit D, Moneta, VA 24121. 252-702-1749.
Moneta Athletic Club
Moneta Athletic Club is a family-friendly fitness center located in Mayberry Hills, across from Downtown Moneta in Moneta, VA. Classes include spin, barre, total body workout, aerobics and chair yoga. MAC also offers youth gymnastics and Silver Sneakers, a health and fitness class designed for adults 65-plus that is often included in Medicare plans. 1039 Mayberry Crossing Drive, Moneta, VA 24121. 540-297-6221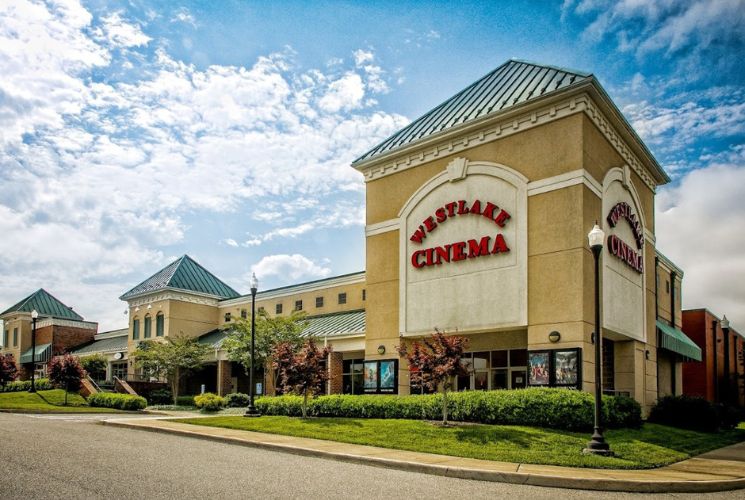 Westlake Cinema offers a four-plex movie theater with stadium seating, 3D features, Dolby Digital Surround Sound, and headphones for the hearing impaired. Franklin County, 84 Westlake Road (Westlake Towne Center), Suite 117, Hardy, Virginia. 540-721-6326
Blackwater Junction is a cable park that offers an active water sports lifestyle in a safe, healthy, family friendly, and environmentally conscious setting. Located just off SML, the complex offers wakeboarding and wakeskating for riders of all skill levels. Franklin County, 456 Bethel Lane, Union Hall, Virginia.
Hot Shots family entertainment center features a miniature golf course, an outdoor pavilion for music and games and a new barn for axe throwing. There's also a full bar and restaurant. Franklin County, 67 Village View Ln., Moneta. 540-719-1547.
Harbortown Miniature Golf Course is located over the water at Bridgewater Plaza.
Fun-N-Games Arcade is also located in the popular plaza at Hales Ford Bridge. Franklin County. 540-721-5959.
Many churches near Smith Mountain Lake operate websites that describe their worship programs and services.
The Smith Mountain Lake community supports a wide range of interests. Many of these interests are promoted by not-for-profit community organizations – including antique boating, the arts, ballroom and square dancing, contract and duplicate bridge, fishing, gardening, piloting, quilting, scouting, water skiing, yacht racing, and much more.
Dozens of fun-filled events take place year-round at Smith Mountain Lake, including lakeside festivals, sporting events, fireworks celebrations, boat shows and holiday events. Read our Ultimate Guide to SML Events and Festivals for all the details!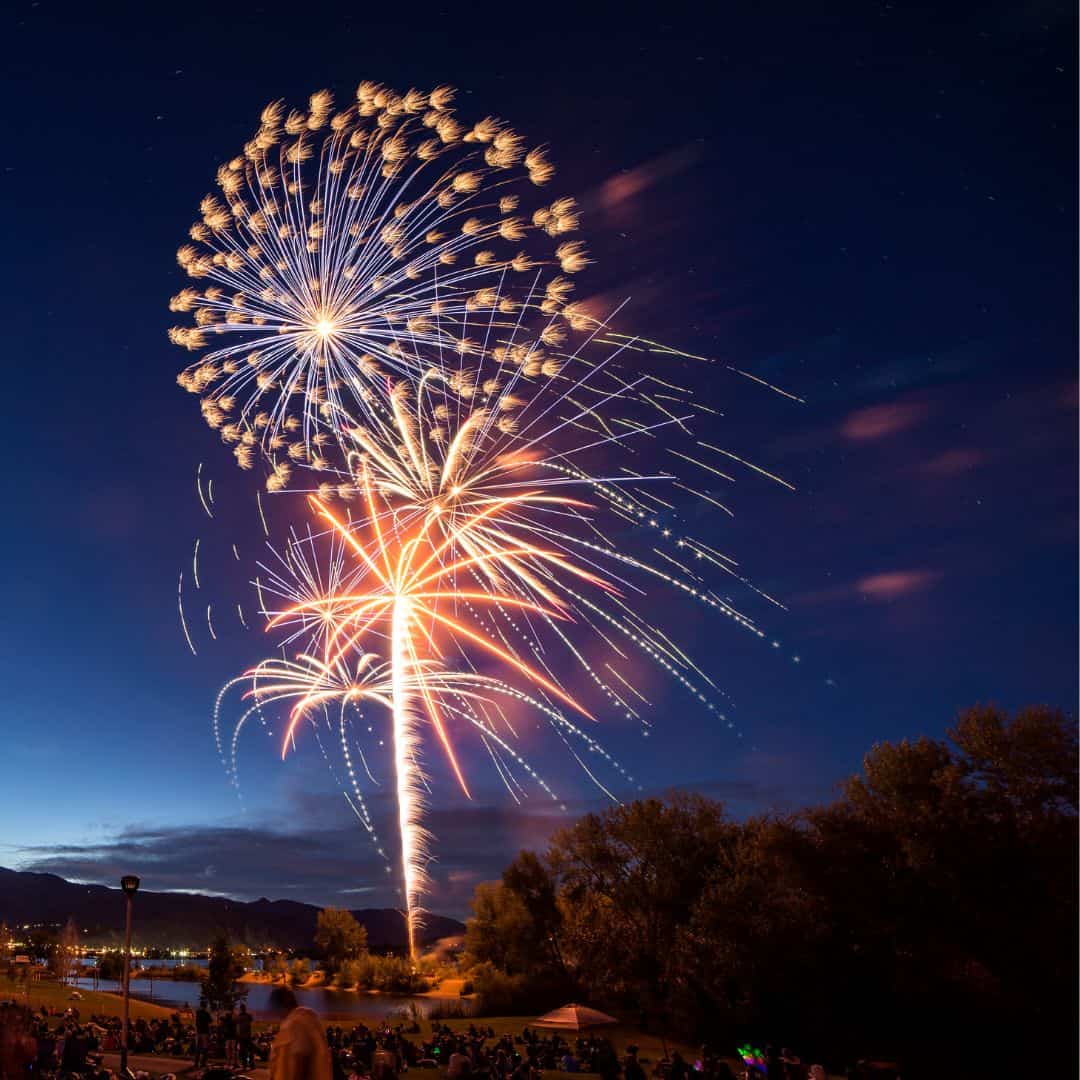 Ultimate Guide to Smith Mountain Lake Events and Festivals
All of Smith Mountain Lake's most popular annual events compiled into one handy blog post! You'll definitely want to check out the amazing happenings that take place year-round at Smith Mountain Lake.
For more upcoming lake events, check the SML Events Calendar from the SML Regional Chamber of Commerce.
WSLK 880 is the lake's only broadcast radio station; it's 880 on your AM radio dial and will let you know "what's happening" at SML, anytime during its broadcasting hours (dawn to dusk).

More local information for Smith Mountain Lake, Virginia: