15 Smith Mountain Lake Restaurants to Try by Boat [2023]
This site contains affiliate links. If you click and purchase, we may earn a small commission at no extra cost to you. Read our full disclosure policy.
Exploring Smith Mountain Lake restaurants by boat is one of the absolute best parts about living at and visiting SML!
However, deciding where to dock and dine at Smith Mountain Lake may be daunting, especially for those visiting or new to the area. So, at SML Insiders, we've put together this handy guide that details what you'll find at each of SML's waterfront restaurants.
Types of cuisine, atmosphere, entertainment, channel markers and docking tips are all outlined below for 15 of the most popular Smith Mountain Lake restaurants on the water. (For off-water eateries, be sure to visit our SML Restaurant Directory.)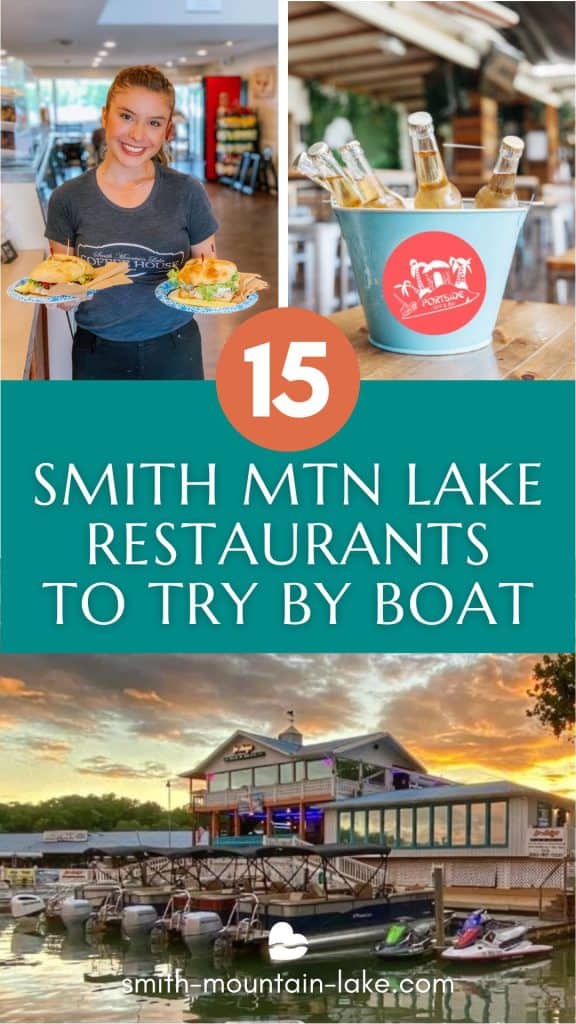 Smith Mountain Lake Waterfront Dining Guide

Drifter's
Many Lakers think the Drifter's slogan, "Best Food on the Lake," is no exaggeration.
Get there by turning into the long cove that hosts Crystal Shores Marina, up river and across from R-27. You'll be hard-pressed to miss the large sign at the cove's entrance.

Insider Tip: Don't even consider cutting between the sign and nearby shoreline. It's shallow there!
With luck, one of the few slips or parallel docks lakeside of Drifter's will be available (boats only, no PWCs allowed there). If not, circle around to the north and idle back into the marina where some transient docking is usually available. Use caution as those docks are on the older side.
But the fare at Drifter's – crying to be enjoyed outdoors at the umbrella tables – makes the docking adventure worthwhile. Just reading the online menu will have your stomach rumbling. Start with one of the outstanding appetizers such as peel-and-eat shrimp, wings, ahi tuna bites and hot Maryland crab dip.
You'll also find a great selection of salads, tacos, wraps, quesadillas and nachos. Gourmet burger lovers choose from an impressive lineup that includes the "Bedford Landings," a half-pound prime beef patty topped with cheddar and bourbon-grilled bacon then drizzled with peanut butter and honey. Unforgettable!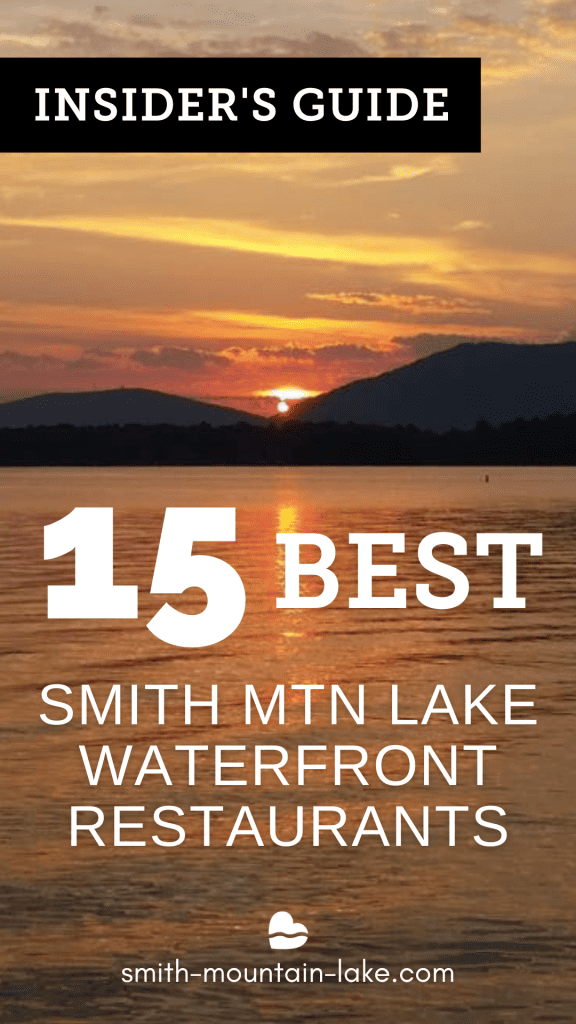 Bridgewater Plaza Restaurants
The waterfront "mall" at Bridgewater Plaza at marker R-28 boasts five reasonably-priced, feed-the-crew options to crush the hunger pangs that result from time on the water
Ample visitor docking is always available at the mouth of the Bridgewater Plaza cove, just below the south end of the bridge. From there, it's an easy boardwalk to these five Smith Mountain Lake restaurants, with public restrooms easily found on the lower level of the lakefront complex.
Pizza Pub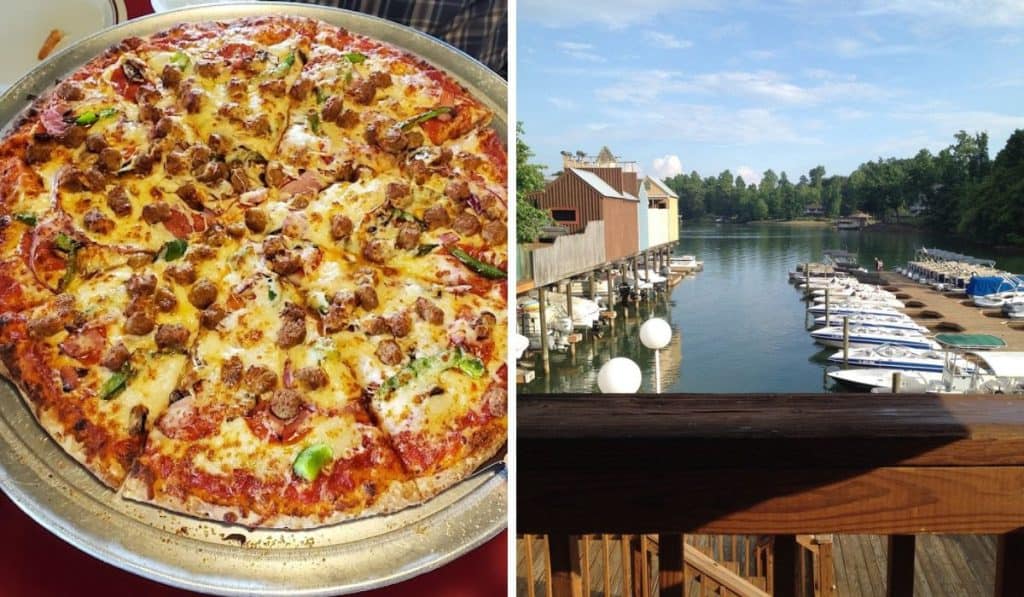 If your hankerin' is running toward crispy crust, melted cheese and toppings of choice, a stop at Pizza Pub may be just what the "dock-tor" ordered. Enjoy a steaming hot pizza indoors or on the boardwalk deck overlooking Bridgewater Plaza's quaint rooftop mini-golf course, Harbortown.
Pizza on the waterfront is sure to be a hit with your crew, whether it's lunch, dinner or a mid-cruise snack. You can even call in your order (540-721-1234) to have your pizza awaiting your arrival … and get straight to the crowd-pleasing eatin' part with minimum time off the water.

Insider Tip: Be a real hero and treat your crew to some of the 20 varieties of ah-mazing homemade fudge available at Gifts Ahoy, just one flight up.
Smith Mountain Lake Coffee House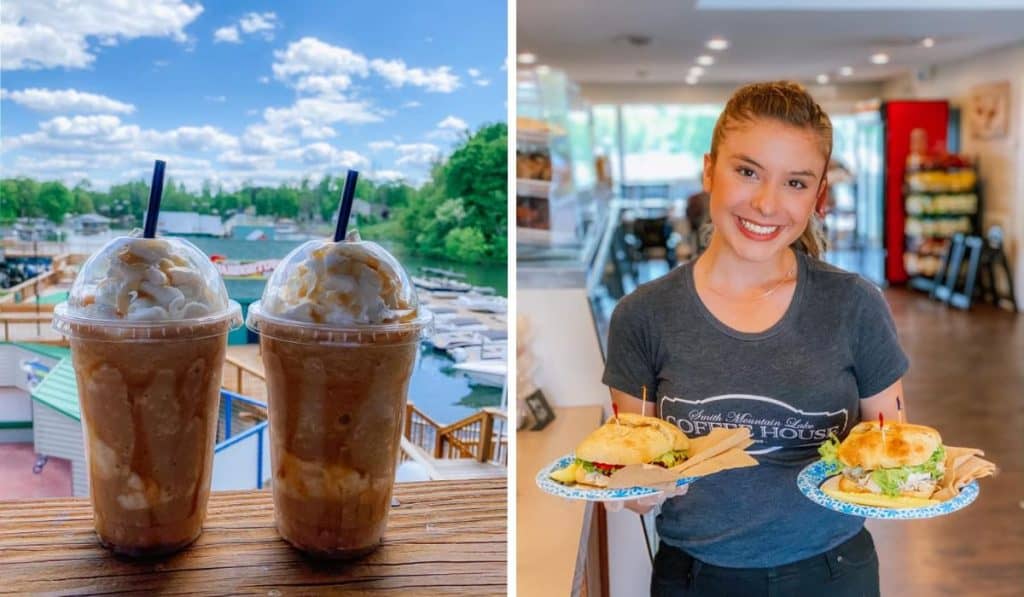 Don't browse Bridgewater Plaza's shops without ducking into this bright and cheery venue that overlooks Bridgewater Marina below.
Comfy sofas, coffee, tea and sandwich creations rule at Smith Mountain Lake Coffee House, along with free wifi should you need to fake being at work.
There are also tables out on the boardwalk veranda where you can watch the rock climbing and sky-high trampoline amusements in progress while enjoying a breakfast goodie, specialty sandwich, fresh salad or pastry creation.
Another option: Have some delectables boxed to go for an on-board picnic while drifting in a nearby secluded cove.

Insider Tip: Don't leave without ordering a glazed, stuffed croissant, available in blueberry, raspberry, lemon, chocolate and Bavarian cream. You'll thank me.
Mango's Bar and Grill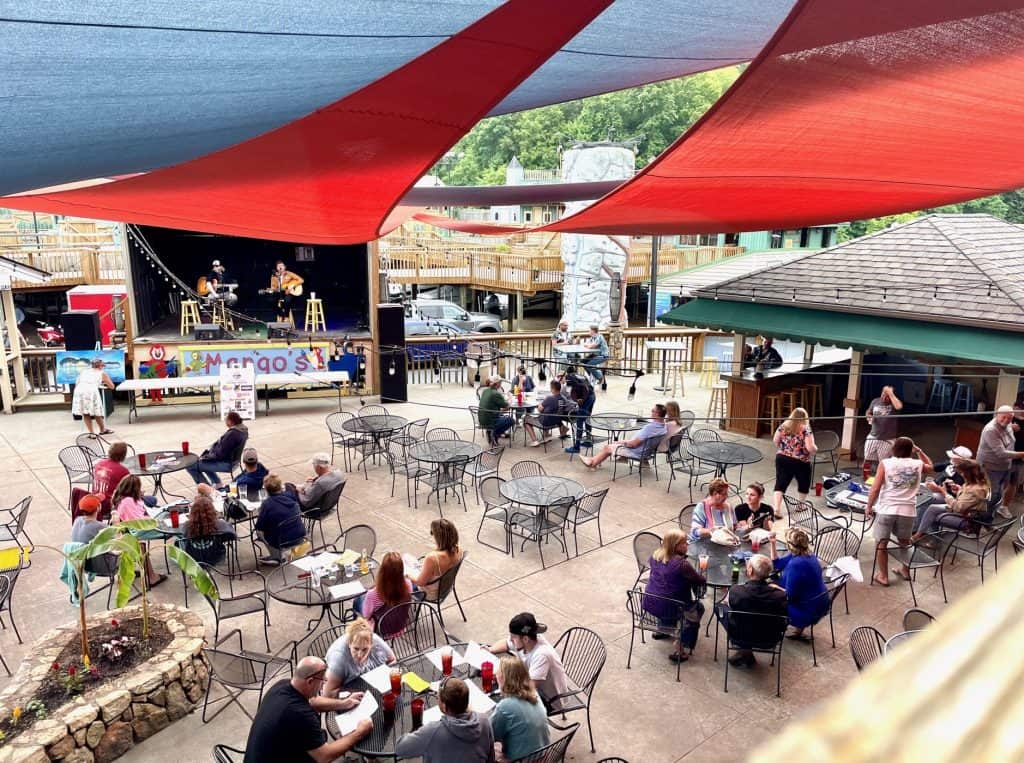 Eat and beat the heat under Mangos' new sail-like sunshades, umbrella tables and misting nozzles while enjoying a concoction from the waterfront bar.
Your meal can begin "internationally" with Fried Cheese Steak Spring Rolls, Jalapeno Wontons, Chili Cheese Fries, Beer-Battered Fried Pickles or a bowl of Three Cheese French Onion Soup.
Homier entrees at Mango's include Chicken Parmesan, an 8-ounce New York Strip, meatloaf, cheese steaks and a selection of specialty burgers – all generously portioned.
There's a five-item kids menu and whatever you order will be served by a cheery waiter or waitress who obviously loves working outdoors and is determined to show you SML hospitality at its best.
With a gradually-sloped walkway from the docking area, Mango's is easily wheelchair accessible.

Insider Tip: Mango's is the place to be for rockin' live music on the weekends, so if that's not your speed, choose a lunch or weekday dinner stop. Get the band schedule in our monthly Smith Mountain Lake events blog posts.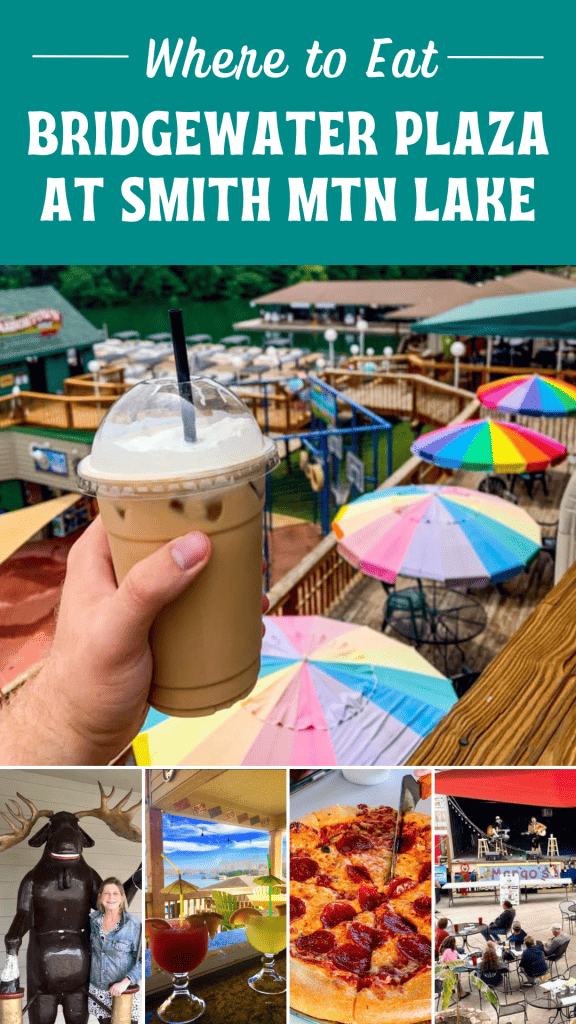 Moosie's Restaurant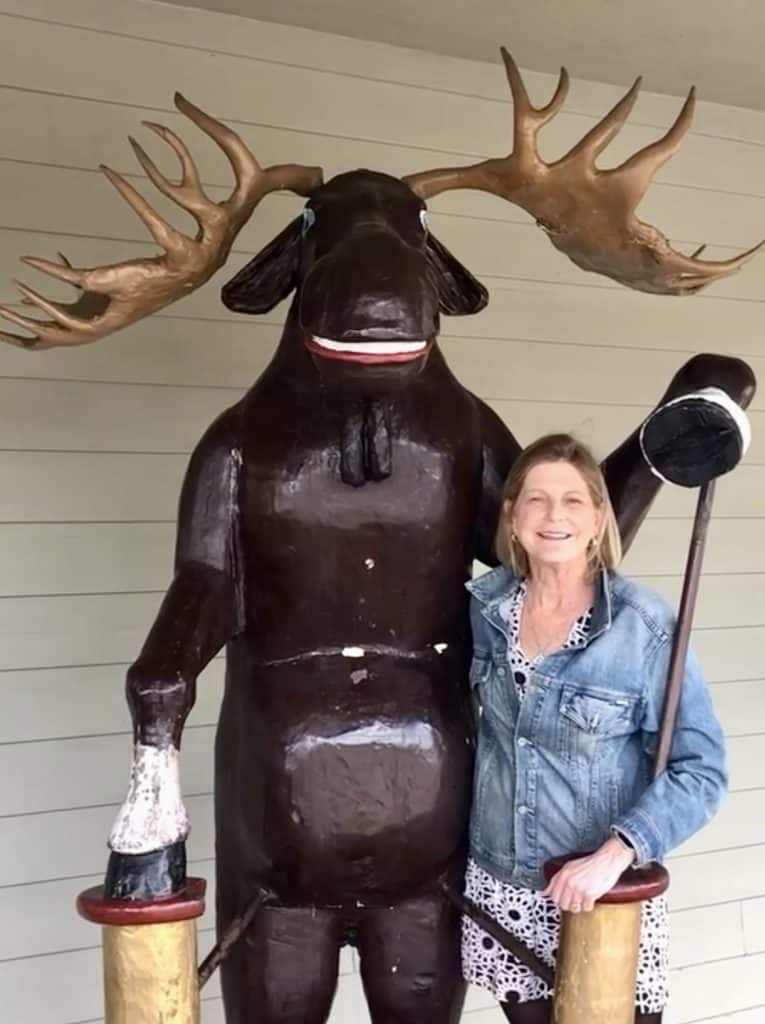 Located on Bridgewater Plaza's upper level, Moosie's is a true SML institution.
The front entrance is home to a giant, smiling moose mascot statue that practically begs to be in your selfie. Once your photo is posted, pop in for a selection of sandwiches that includes a couple of memorable turkey-piled-high offerings, baked ham and Swiss and a super tasty Reuben.
There are salads and burgers galore, NY-style Nathan's hot dogs, tacos and seriously huge nachos. A tasty NY cheesecake headlines the desserts at Moosie's.
A half dozen children's menu items, like the rest of Moosie's fare, are reasonably priced, and several large tables are perfect for accommodating family gatherings. Yep, a lunch or early dinner at Moosie's is worth posting about.
Mexico Viejo Tequila Bar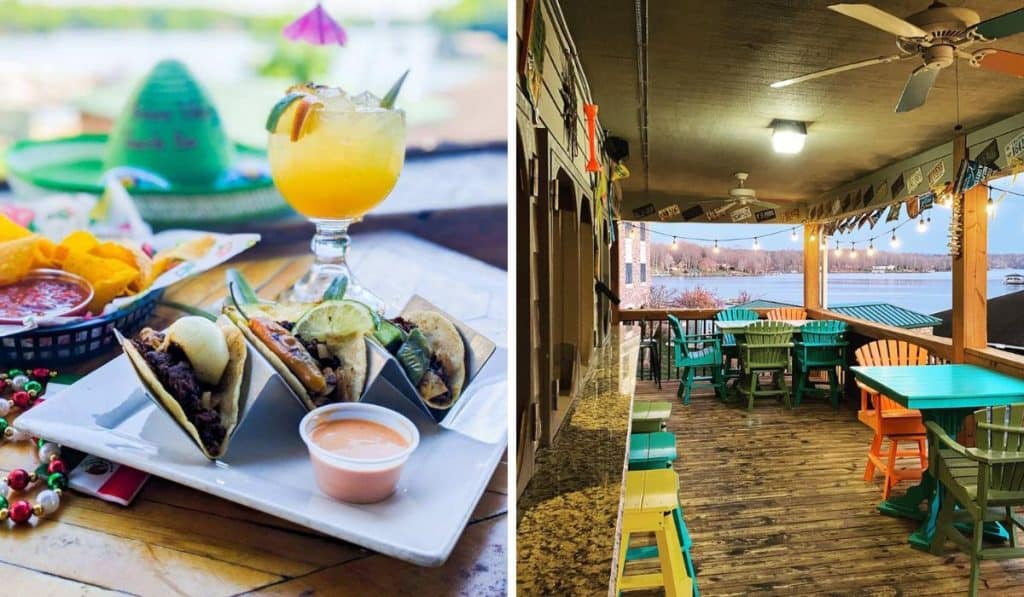 The music, décor and food at Bridgewater Plaza's Mexico Viejo will make it seem as though your boat magically appeared south of the border (and you didn't even have to go through customs!).
Margarita lovers will enjoy sipping theirs in such an authentic setting. Especially gracious ones will grab an extra in a to-go cup at meal's end that the skipper can kick back and enjoy once he's gotten everyone safely back to home port.
Listen to some sizzle when your order of fajitas, enchiladas or steak arrives. Or perhaps your taste runs to chicken or steak tacos, chimis, burritos or quesadillas.
Mexico Viejo Tequila Bar is one of those places that, when you see your companions' selection placed in front of them, you can't help but think, "Maybe I shoulda ordered that!"

Portside Grill & Bar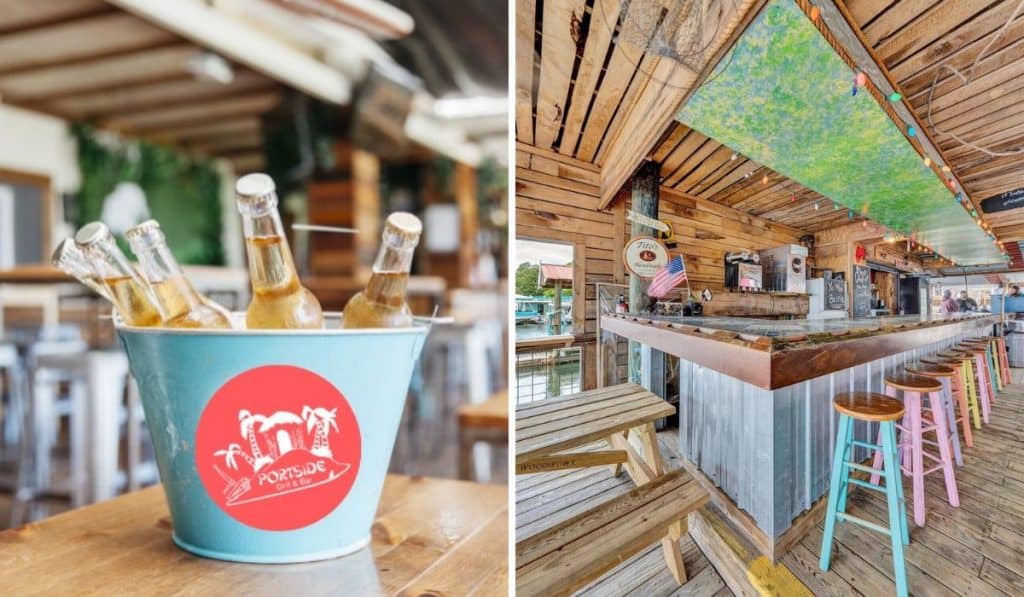 Transport yourself to a lively atmosphere reminiscent of Key West by spending an afternoon at Portside Grill and Bar. Here, an open-air setting, tropical décor and colorful characters always make for a delightful experience.
Located at Virginia Dare Marina, this Smith Mountain Lake restaurant on the water offers a limited yet satisfying selection of casual dining favorites, well-suited to the open-air, over-water setting.
We love the peel-and-eat shrimp and the half-pound Angus Beef Burger. And don't miss some of the best wings at Smith Mountain Lake, available in Chili Lime, Jerk and Carolina Gold flavors.
Grab an ice-cold bucket of beer or the ever-popular margarita, sit back, relax and enjoy live music. Local musicians, mainly solo and duo acts, are scheduled most Friday and Saturday evenings, as well as Sunday afternoons. There's also Karaoke every Friday night starting at 8 p.m.
Free customer docking on recently refurbished docks is generally available at Portside, which is only open in season. Saturdays are generally busiest, so Sundays are when you'll find the locals noshing and quenching.
Portside is located just northwest of Marker R-21, along with Beacon Seafood Pub and the Virginia Dare cruise boat.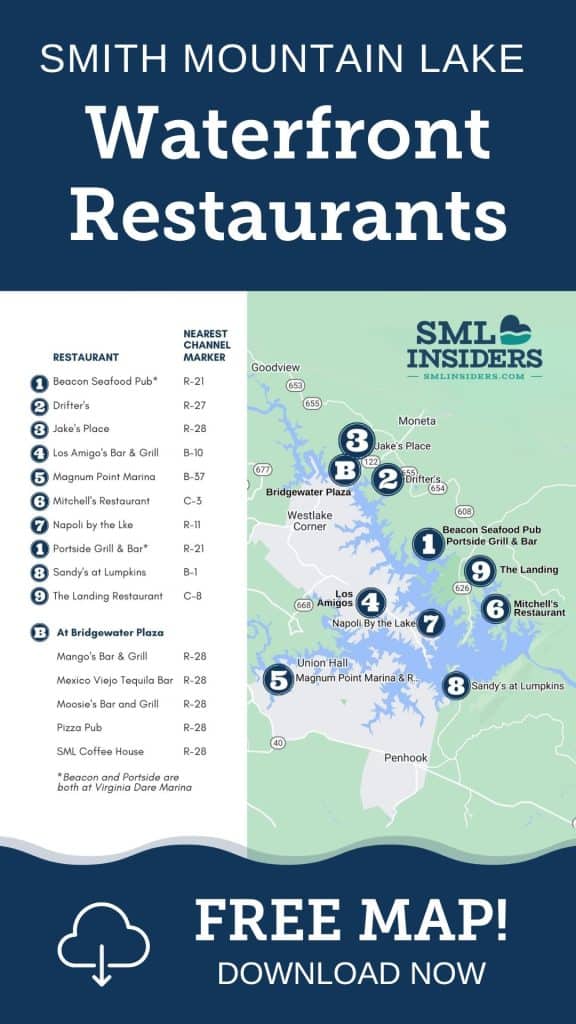 Beacon Seafood Pub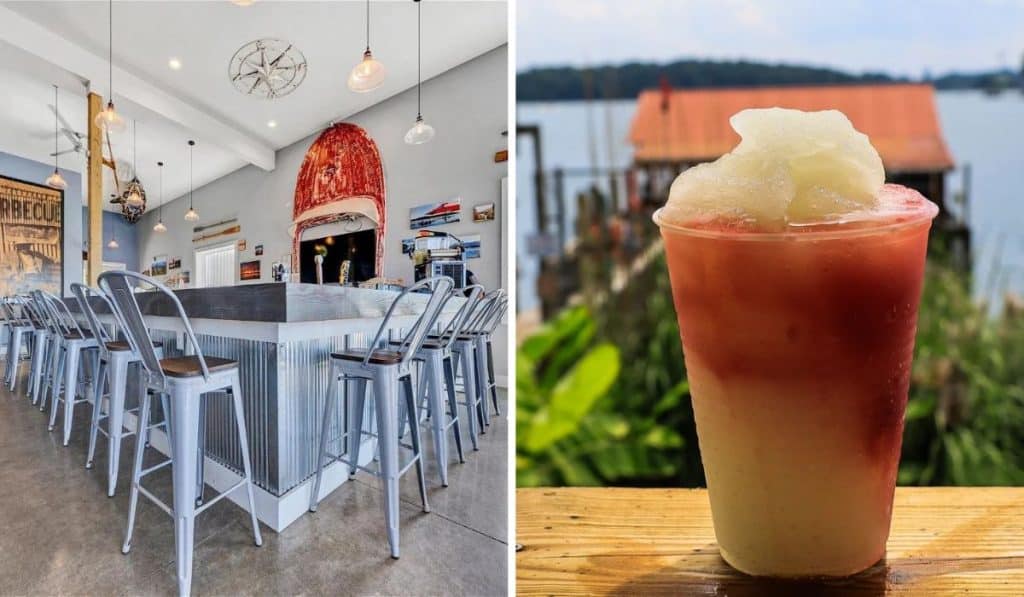 This relative newcomer to the Smith Mountain Lake lakefront restaurant scene is located on shore at the Virginia Dare Marina near R-21. Beacon has ample transient slips suited to runabouts, tritoons and wake sports towboats.
Re-built after a 2018 fire, the restaurant's décor and menu are fittingly lake casual. The views from both indoor and outdoor seating are spectacular, and the restrooms are as clean as you'll find.
Beacon Seafood Pub is SML's answer to the question: "Where can I get the best seafood near me at Smith Mountain Lake?"
While there are several "land" entries on the menu (French dip sandwich, nachos, Portside Pockets, three-topping pizzas), seafood lovers will delight at the lobster roll, crab cakes, bacon-garlic shrimp, low country boil and seafood panini.
Happy hour runs from 4 to 6 p.m. Friday through Sunday and includes several intriguing appetizers.

Jake's Place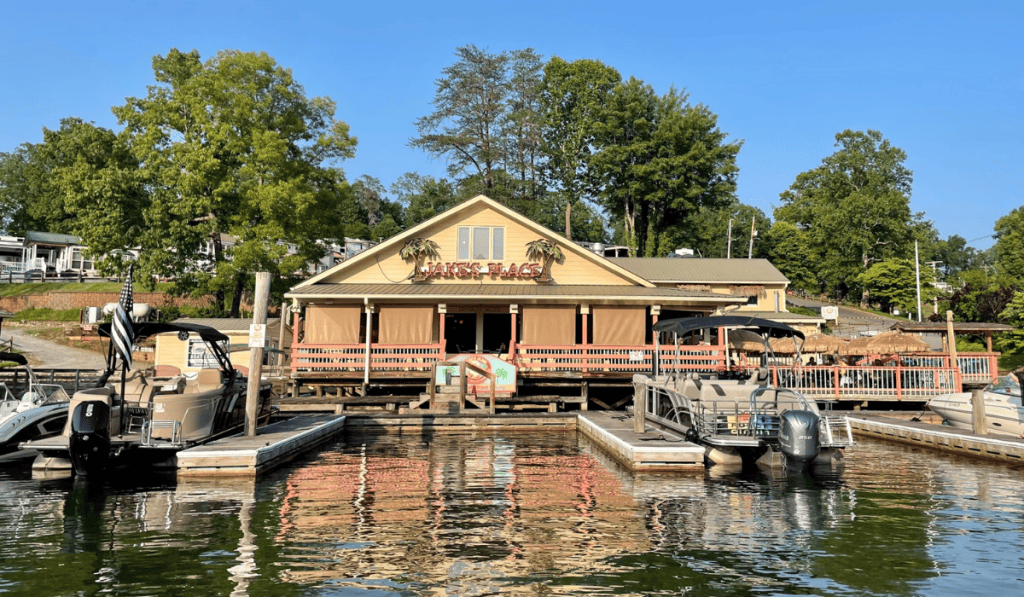 Named after the Gordon family's beloved golden retriever (RIP, Jake), the guest docks at Jake's (north of marker R-28) are located just feet from the building's covered dining porch and patio, which features tables shaded with thatched umbrellas. The separate bar, where you can also grab a bite to eat, offers one of the lake's livelier watering holes for regulars and visitors.
Jake's Place starters include wings, crab dip, chicken nachos, peel-and-eat shrimp, ahi tuna, and several other tempting appetizers.
Entrees include five specialty burgers, steak or shrimp tacos, several creative sandwiches, and a plethora of salads. Steak nights are announced on the restaurant's Facebook page and are a great value for meat lovers.
Up for a calm, morning boat ride? Jake's offers a half-dozen intriguing breakfast entrees that may take you a couple of tasty Bloody Marys to decide among. So motor on over for a dining experience that will leave you saying, "Yep, great choice! We'll be back."

Insider Tip: Even the best restaurants in Smith Mountain Lake have variable hours so be sure to check online before heading out.

The Landing Restaurant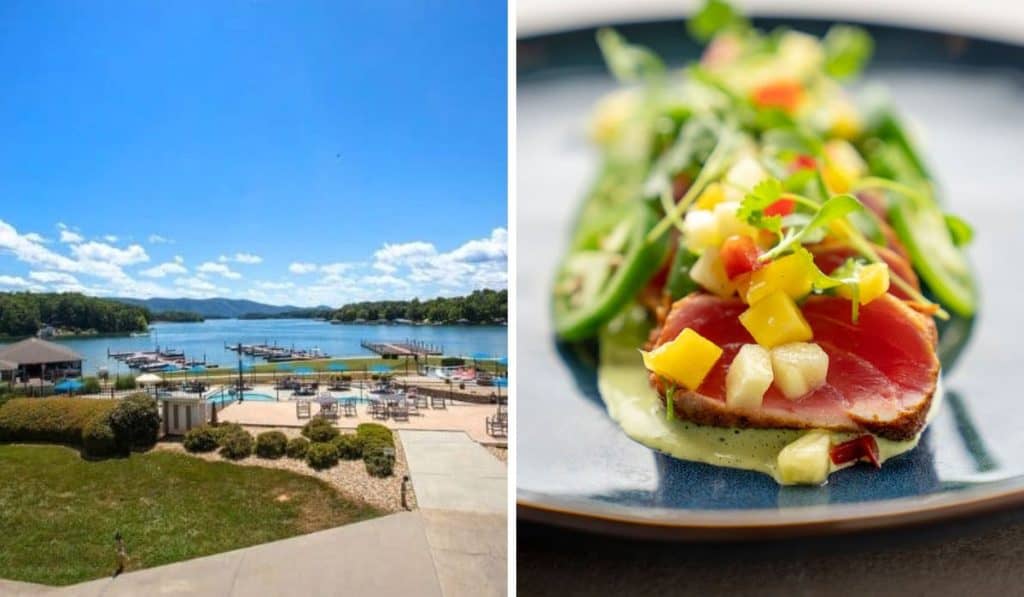 Definitely the fanciest (and priciest) of our Smith Mountain Lake restaurants on the water, The Landing is located up Craddock Creek at ground level of The Pointe at Mariners Landing. The closest channel marker is C-8.
Stable transient floating docks are a short walk from the restaurant's lakefront entrance, just past the pool.
Inside, an oasis of Peruvian-inspired cuisine awaits. In fact, Chef Bruno Silva's menu is chock full of options you won't find at any other Smith Mountain Lake restaurant on water or off. Starters include lobster deviled eggs, pickled French fries, caviar chicken wings, calamari noodles and gyro fried oysters.
The Landing also features several distinctive salads and pasta dishes, as well as impressive entrees such as a luscious Pittsburgh filet, mouth-watering Chilean sea bass and roasted Peruvian chicken. A fine selection of wines is offered or you may bring your own and pay a $20 corkage fee.
An after-dinner idle further up Craddock Creek (past the patio home docks) is a relaxing way to top off the evening before heading back downstream to wherever you started.
At Mariners Landing, you're about 12-15 minutes from channel marker C-1, which you'll round before entering the large bay where the Roanoke and Blackwater rivers converge.

Insider Tip: There's also a marked shortcut between the islands that guard the entrance to Craddock Creek, but it's safest to idle between those unlit buoys if the water level is much below full pond. If you opt to go around C-1, give it some space as there are shoals between the marker and the island nearest it.
Adjacent to the restaurant is Mariners Marketplace, a gift shop offering gourmet grab-and-go food, wine, beer, snacks and Starbucks coffee. All can be enjoyed on the lakefront patio.

Napoli by the Lake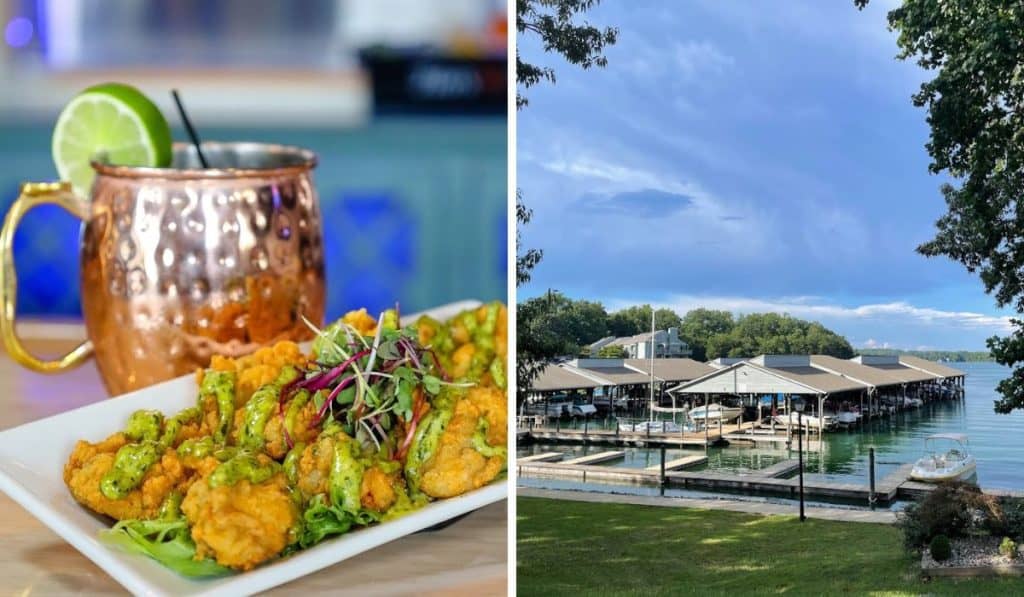 Tie up at Bernard's Landing for a meal at Napoli by the Lake and return to your boat thinking, "Yep, that's a place we can enjoy again and again."
Recently renovated by the owners of Napoli Cowboy on Burnt Chimney Road (an off-water favorite with residents and visitors alike), this is one of two boat-to fine-dining establishments located lakeside (the other is The Landing at Mariners' Landing).
The casual atmosphere is lake-lux, with floor-to-ceiling windows looking out over the Bernard's Landing docks. A few outside tables off the poplar bar are available for the many in-season evenings when the weather is inviting.
Enter the harbor through no-wake markers near R-11. Most of the transient slips are to the left of the covered docks, but there are a few parallel tie-up spots on the far right as well. Docking is tight and possibly challenging during peak mealtimes.
The servers at Napoli by the Lake are always well trained and personable. Among the delectable starters they can bring are incredible coconut fried shrimp and crispy tater tots (share this heaping plateful with your companions or you'll likely spoil your dinner).
Starting with the Oysters Rockefeller or Fried Lobster Arancio are also great options for seafood lovers. There are several creative salads and the rather short list of entrees highlights chicken and seafood specialties. Be sure to listen to the daily specials, which are creative and delicious.
Napoli by the Lake is a perfect choice for birthdays, anniversaries or other special occasions. Then again, just boating to a meal at any of these Smith Mountain Lake restaurants is a special occasion in itself any day of the week.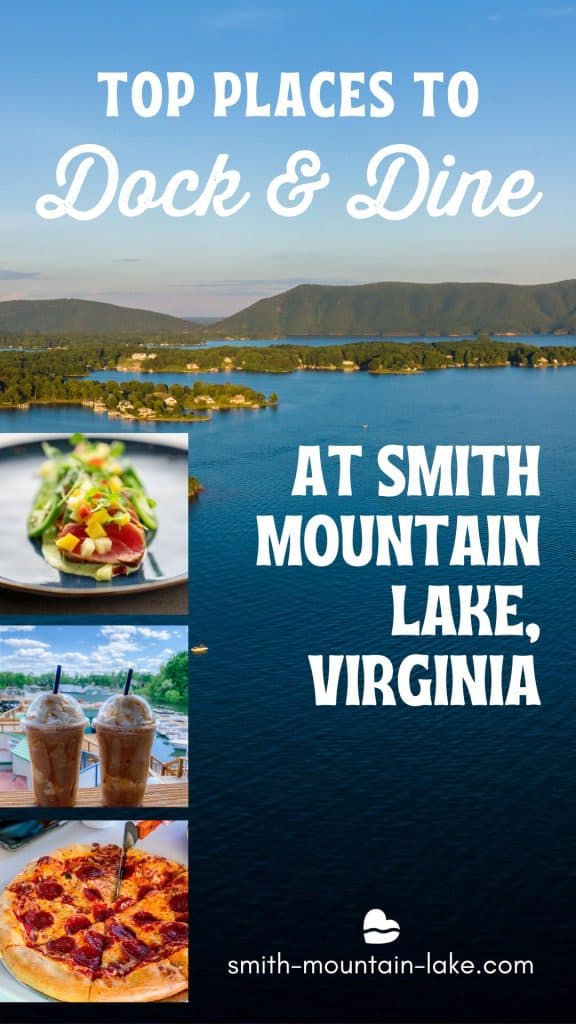 Magnum Point Marina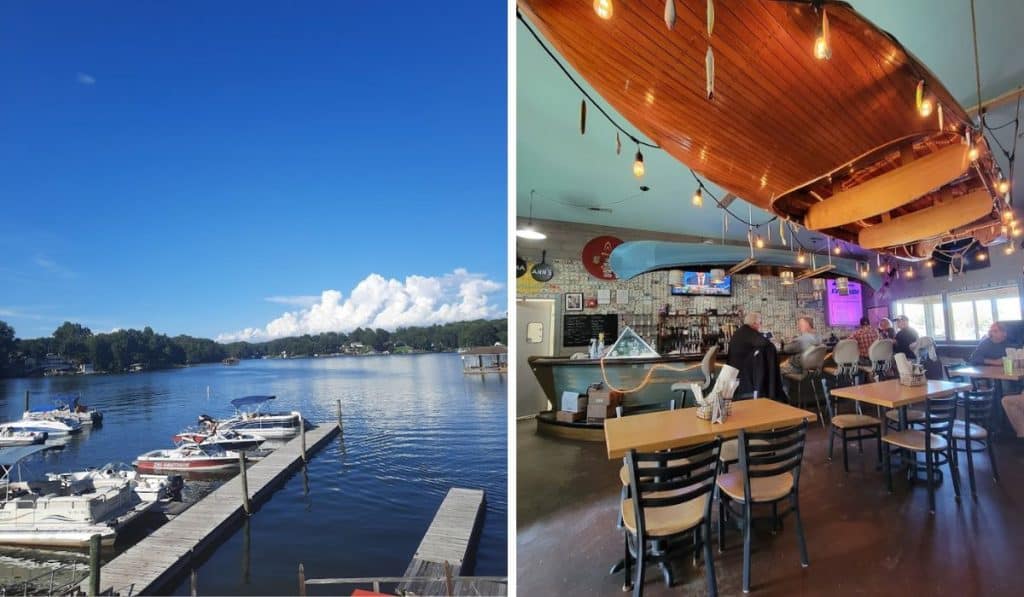 Boaters who enjoy the relatively light traffic of the Blackwater River are delighted to have the restaurant at Magnum Point as a lunch or dinner destination.
It lies near marker B-37, about midway up the Blackwater, roughly 25 minutes from markers B-2-4-6 at a leisurely on-plane pace. Docking is plentiful, though use care on the finger piers which, like those at Crazy Horse, get tippy with more than two people on them at a time.
Once you've climbed the full flight from the waterfront to the porch, you'll find colorful high-top tables and artsy wrought iron chairs awaiting those who wish to dine outside. This is a fun choice that makes sense year round now that the owners have added clear-plastic "windows" and heaters for the chillier months.
In season, Magnum Point is mostly al fresco, but with a few indoor tables and seats at the bar for those who prefer climate-controlled spaces. Monday nights are trivia nights and there is sometimes live music on weekends.
Foodwise, we're talking traditional sandwiches, wings, burgers, salads and mouth-watering pizzas, all available as phone-ahead carry-out for those who wish to picnic aboard or run the vittles back to their dock. This is good food at a reasonable price … plus there's a boat ride involved. Enough said!

Los Amigos Bar & Grill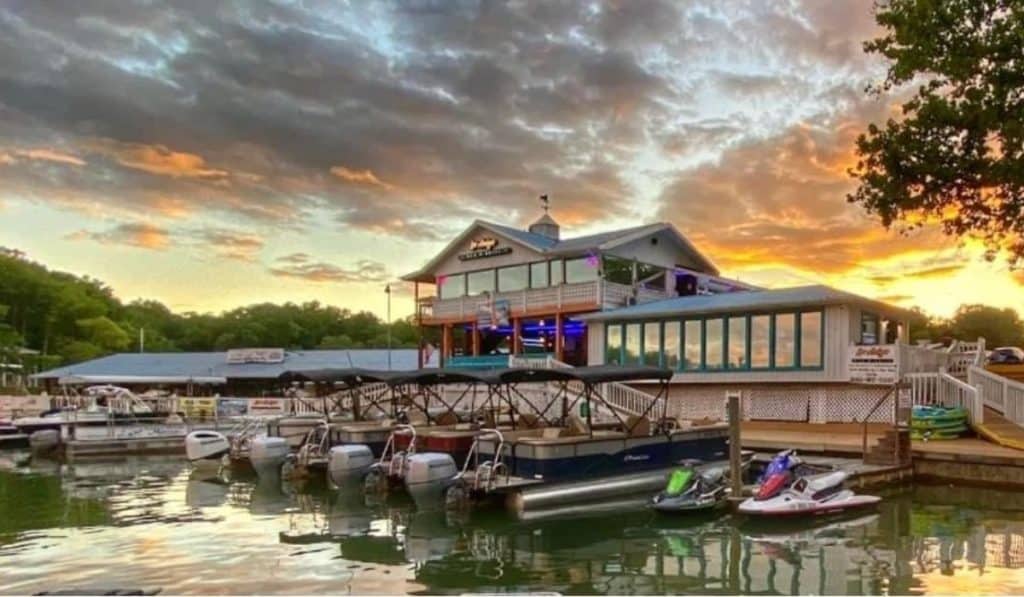 One of two places to find waterfront Mexican fare, Los Amigos is one of few Smith Mountain Lake restaurants that are open every day, almost year-round.
Los Amigos is located at Crazy Horse Marina on the Blackwater River Channel, a bit up river from B-10 (actually, Chimney Island at the mouth of Crazy Horse cove is directly adjacent to B-10A). It's convenient for Blackwater residents and no more than a pleasant 30-40 minute run for "explorers" from the Roanoke River anywhere below the bridge.
You'll find nearly 50 transient slips at Crazy Horse Marina, which makes for easy docking on floating piers nicely sheltered from wind and wakes.
Gas is available 24/7 from credit card-operated pumps; Sea Tow members get a few cents discount when paying in the store, which is also well-stocked with snacks, water toys and marine essentials.
Diners at either inside or outside seating have a nice view of the cove with Smith Mountain in the distance. The menu offers a wide selection of nachos, quesadillas, burritos, fajitas, tacos and salads. For a real treat, ask your server to make fresh guacamole tableside.
Margaritas, either frozen or on the rocks, start at $16 for the house standard and go up in price for organic, skinny and top-shelf varieties.

Mitchell's Restaurant and Lakeside Pizzeria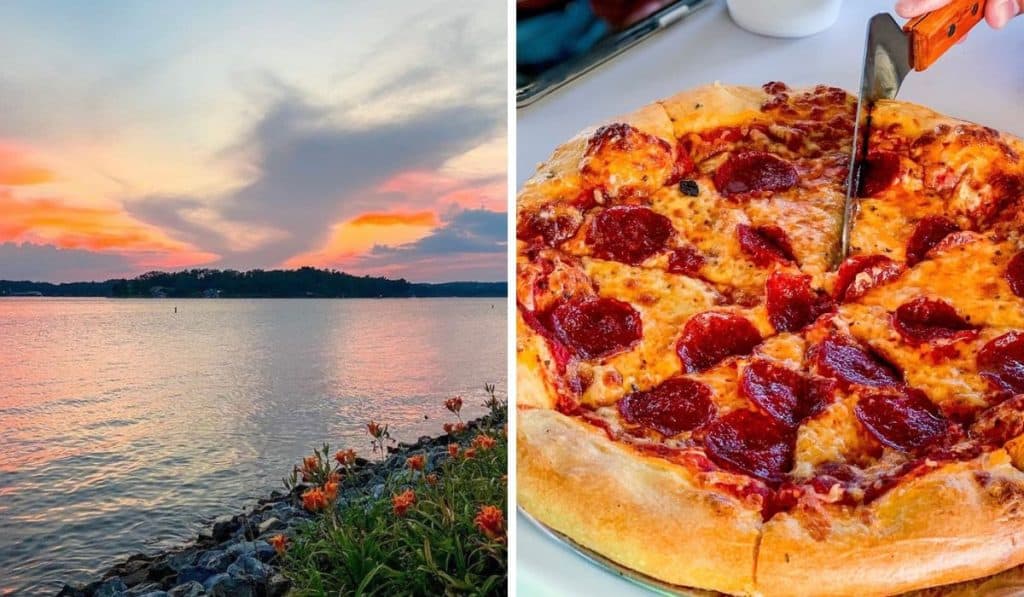 Located across from marker C-3 on Craddock Creek, Mitchell's serves up sizable portions of popular lunch and dinner choices on a comfortable, covered patio. The outdoor space includes a small stage where local performers entertain on weekends (check Facebook for a schedule).
Choosing between the fresh pizzas and wings, fish and chips and a variety of sandwiches (the Philly cheesesteak is especially generous) can be daunting. Fries and onion rings are crispy complements.
Hours vary by season at Mitchell's so check online to avoid tying up and finding the kitchen closed.
The docks were recently refurbished and the finger piers are stable, but dockage can get scarce during main mealtimes in the height of the season so you might have to await a departure to find a spot.
The food is worth a bit of a wait, though, so bring along a deck of cards or your phones if you need to pass the time at this family-friendly Smith Mountain Lake restaurant.

Sandy's at Lumpkins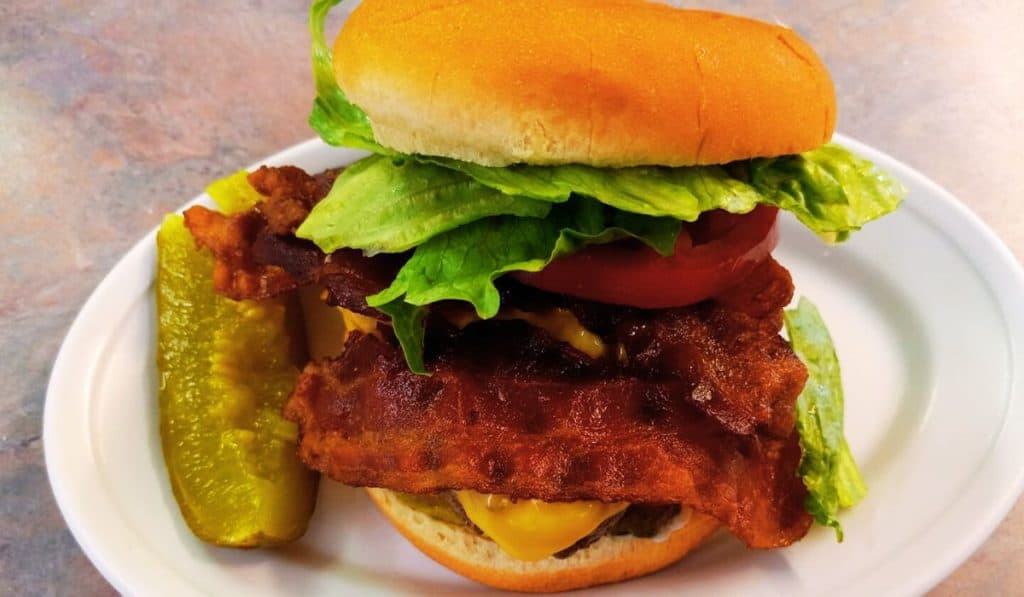 Just on shore at Lumpkin's Marina, Sandy's is popular with locals from the Penhook area as well as boaters seeking a destination near the foot of the western end of Smith Mountain.
To get to Sandy's, follow the shoreline from B-1 toward the west end of the Smith Mountain and duck into the first deep (long) cove beyond the Boat Church and on through the no-wake markers.
Nice docking is available on the end and far side of the fuel dock, which was recently rehabbed to be stable and splinter-free.
Sandy's is basically a short-order snack bar where you order at the window and Sandy or one of her relatives brings the grub, usually in "to go" clamshells even when you are eating there at one of several picnic tables on the covered patio.
It is favored as a casual lakeside stop for breakfast or lunch. It's a small kitchen, so Sandy encourages calling in your order ahead so you won't lose valuable lake time waiting.
Sandy's famous triple blueberry pancakes and eggs cooked to order are highlights of the extensive breakfast menu. Choose from a number of tasty sides such as grits, hash browns, oatmeal, biscuits drenched in sausage gravy and more.
Lunch features regular and plus-sized burgers, a Philly cheesesteak, turkey club, pork barbeque and a selection of large salads.
This is the epitome of tasty and reasonable down-home fare that is perfectly suited to quick-stop lakeside dining. Expected dress for the occasion is flip flops and tank tops or bathing suit cover-ups.

Insider Tip: Prices at Sandy's are as reasonable as you'll find, but bring cash or check as credit cards are not an option.
Smith Mountain Lake Restaurants on The Water
Setting out with family and friends for a casual breakfast, leisurely lunch, lively cocktail hour or special dinner is made even more memorable when you go by water. Don't forget to designate a skipper, make sure all of your equipment is proper working order and bring along a fully charged cell phone.
Smith Mountain Lake Waterfront Restaurant Map

Download a free, printable map (with channel markers!) of Smith Mountain Lake restaurants on the water.
Other Smith Mountain Lake articles you may enjoy: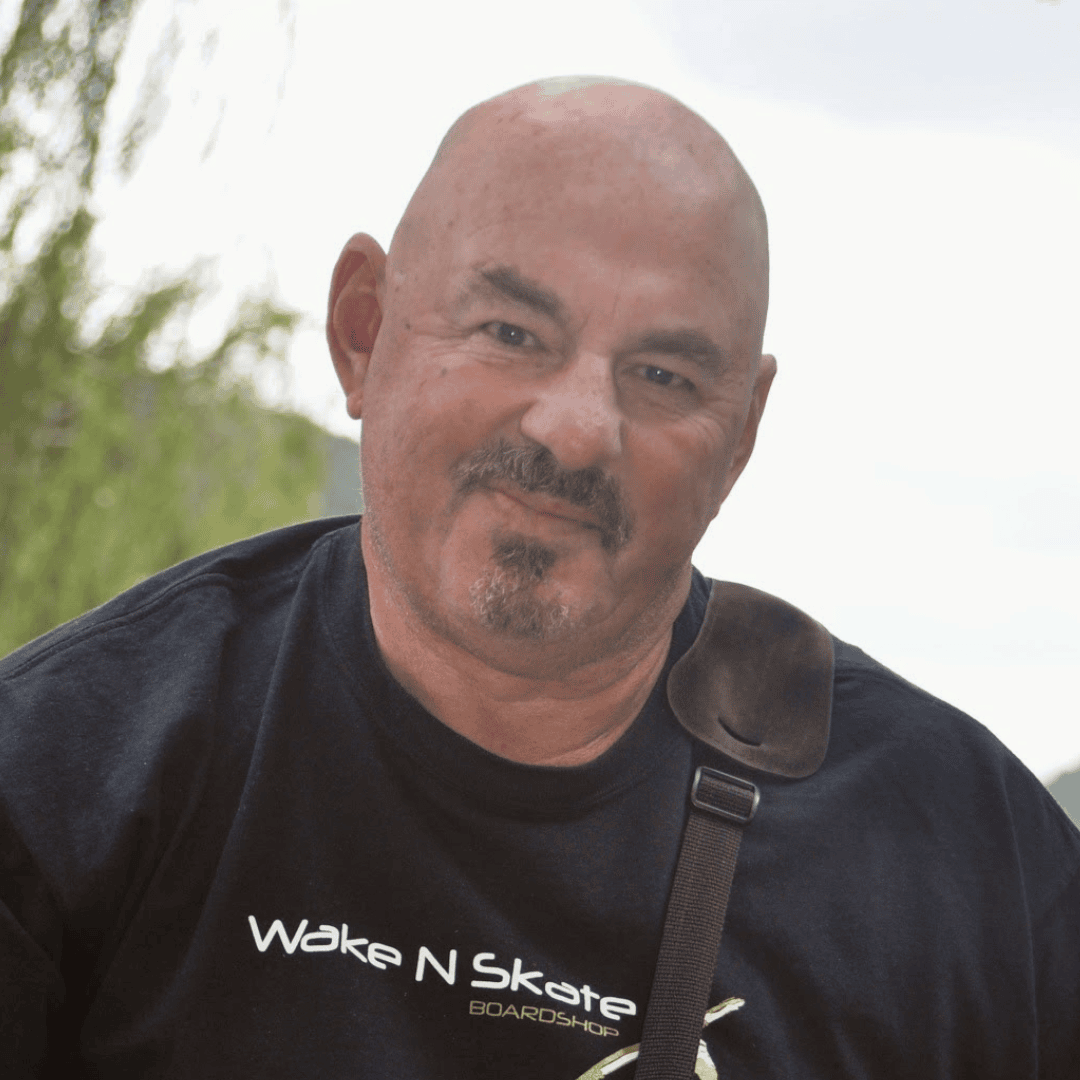 Jerry Hale
When he's not writing about the Smith Mountain Lake, you might just find Jerry out wake surfing or just idling through its coves, practicing guitar or banjo on his deck at the Cottages of Contentment Island, playing steel drums or volunteering with LCM, Trinity Ecumenical Parish, Neighbors Helping Neighbors or the SML Charity Home Tour.