A detailed map of SML will help you to locate the seven Smith Mountain Lake boat ramps open to the public.
Folded waterproof maps of SML are available through the Smith Mountain Lake Association for $11 (plus optional shipping) with all proceeds supporting the organization's many lake improvement projects. You can also buy the latest map from some local marinas.
Click on the map below for SML public boat ramp details, but note the navigation markers referenced below are visible only on printed lake maps.
Boat ramps/launches are listed in order from the most northern launch on the Roanoke River (at navigation marker R-87) to the most southwestern launches on the Blackwater River (B-12) and Bull Run (BR-3). Here's a map of all public access boat ramps/launches.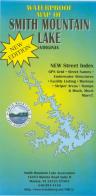 If you need to gas up your boat while cruising SML, here's where to go. Call each marina first for hours, map directions and updated gas prices.
Be sure to buy (and carefully study) your waterproof map of SML – starting at $11 – from the Smith Mountain Lake Association (540-719-0690) – before you go boating, or you may not be able to find all of these marinas.
Be aware that some marinas are open only during peak-season and/or summer weekends. Be sure to call each marina first to confirm hours of fuel availability. Several offer a 24/7 pay-at the pump option.
These marinas with boat gas are listed by nearest Smith Mountain Lake Marker number, starting from north to south on the Roanoke River, then up the Blackwater River and Gills Creek.
If a listed marina has closed, or an unlisted marina should be added, please contact us to request an update. Remember that you are responsible for verifying all listed info before you go boating on Smith Mountain Lake!
Navigational (lateral) markers are color, letter and number coded: *NOTE: Other designations also exist so please consult your map.
R = Roanoke River
C = Craddock Creek
B = Blackwater River
Marker numbers start at the dam or the tributary mouth and increase as you go upstream (away from the dam).

RED, even-numbered, triangular markers will be to your right when proceeding upstream, away from the dam.

GREEN, odd-numbered, square markers will be on your left when proceeding upstream, away from the dam.

Navigational markers have red or green flashing lights at night which correspond to their marker color. The entrance to each major tributary is marked with a white flashing light, as are several shoal markers.

Consult your map and stay away from the shoal markers. Do not go between a marker and the shore.

You'll also find white cylindrical buoys that offer information about swimming, shoals, and no-wake areas.

More local information for Smith Mountain Lake, Virginia: