This site contains affiliate links. If you click and purchase, we may earn a small commission at no extra cost to you. Read our full disclosure policy.
Smith Mountain Lake is the second largest (and most visited) lake in Virginia. This page answers the most frequently asked questions about Smith Mountain Lake, commonly referred to as SML.
Yes, Smith Mountain Lake is safe to swim in. The exceptions are near geese, ducks, water fowl, and farm animals – and sometimes following heavy rainfalls that create runoff from farm land or disturb sediment on the lake bottom.
Smith Mountain Lake is known as a recreation lover's paradise, an ideal location for fishing, swimming, boating, tow sports, kayaking, paddle boarding and other fun things to do. The dam that backed up the Roanoke and Blackwater rivers to form SML is the heart of a pump-storage power generation project operated by Appalachian Power, but it has created a deep reservoir (220 feet at the dam) with more than 500 miles of scenic shoreline set against a scenic mountain backdrop. Learn more about the dam and how it works.
You may also enjoy:
10 Insider Tips for Smith Mountain Lake Boating
17 Expert Tips for Boating at Night on Smith Mountain Lake
Yes! An estimated 22,000 residents live at the lake full time in the three counties (Franklin, Bedford and Pittsylvania) that border our shores. Since the pandemic, Smith Mountain Lake has also become a popular location for remote workers looking to take advantage of excellent schools, access to top-notch healthcare, broadband internet access and a slower pace of life.
You may also enjoy: Living at Smith Mountain Lake: An Insider's Guide
The lake community population swells significantly during the summer season, with most homes occupied by property owners, their guests and vacation renters. Some "full timers" opt for warmer climates during January through March when temperatures aren't quite as amenable to outdoor activities. Lasting snow is quite rare and winter days pleasant enough to be out on the water are not unusual. SML does not ice over and is actively fished year round. Boating during the "shoulder" seasons (April, May, October and November) is quite inviting due to pleasant temperatures and minimal boat traffic.
You may also enjoy: 10 Reasons Why Fall is the Best Time to Visit Smith Mountain Lake
Yes. Retirees love Smith Mountain Lake for its relaxed lifestyle, low cost of living, absence of traffic jams and extremely friendly people. Online shopping makes up for the relative absence of major retailers, but nearby Rocky Mount, Bedford, Roanoke and Lynchburg are all easy drives when you need to get a major shopping fix. Lynchburg-based Centra Health and Roanoke-based Carilion have significant presences in the area. The Smith Mountain Arts Council (SMAC) organizes numerous musical and creative arts diversions throughout the year.
While some will occasionally report being bitten, you are much more likely to hear raves about how "mosquito free" this area is – due in part to the constantly changing water level (about 1.5 to 2 inches of "tide" in a normal week) that results from power generation and water recovery cycles at the Smith Mountain dam. Most residents can sit comfortably on unscreened decks and around fire pits well after dark with minimal-to-no mosquito defenses needed.
Yes. Anglers flock to Smith Mountain Lake for its stocked striped bass (also known as rockfish) that range in size from commonly caught and excellent-eating 6-12 pounders up to a record-setting 43-pound trophy. Largemouth and smallmouth bass also are abundant. Locally organized tournaments are held on weekends throughout the year and the Bass Pro Tour and Big Bass Tour schedule periodic events here. Crappies weighing 1-2 pounds are prevalent, and panfish can be caught by kids off of docks. Read more about fishing at Smith Mountain Lake.
Best-selling novelist David Baldacci is the most noted celebrity who currently lives on Smith Mountain Lake. He and his wife Michelle have enjoyed a vacation home here since 2002.
Oscar-winning actress Sissy Spacek once owned a home at The Water's Edge where there is an equestrian center (a passion of hers). Grammy Award-winning bluegrass musician Dan Tyminski (of Alison Krauss and Union Station and country superstar Vince Gill's band) lived in the region for awhile.
A false rumor sparked by the appearance of a  boat named "Top Gun" claimed Tom Cruise was coming. There have also been false rumors of Joe Montana owning a Smith Mountain Lake house. Most recently, there has been talk that musicians Blake Shelton and Gwen Stefani purchased a home on Craddock Creek near Mariners Landing.
Smith Mountain Lake is famous for sparkling waters, a wide variety of recreational pursuits and beautiful shorelines pressed against a mountain backdrop. Movie buffs know Smith Mountain Lake as the site where the 1991 comedy "What About Bob?" was filmed. It starred Bill Murray, Richard Dreyfuss and Julie Haggarty. The Marvins' summer lake house from "What About Bob?" is located on the Blackwater River channel and still attracts sightseers by boat today. The Hallmark Movie Channel's "Lake Effects" starring Jane Seymour was also set and filmed at Smith Mountain Lake. It was released in 2012. Read more about movies filmed at Smith Mountain Lake.
Yes. Smith Mountain Lake is one of the clearest lakes on the East Coast. It is monitored for water clarity, presence of contaminants and invasive species by the Smith Mountain Lake Association (SMLA), in partnership with Ferrum College. The upper reaches of the SML's rivers and creeks may take on a muddy cast after heavy rains, but clarity improves as sediment settles on its way toward the dam. Quite clear by East Coast and Southern lake standards, the bottom is typically visible in 6-7 feet of water. People floating in coves near the dam are often struck by how visible their feet are!
No. A rumor that Tom Cruise was coming to Smith Mountain Lake was sparked several years ago when a boat named "Top Gun" was spotted here. It was a false alarm.
John H. Kerr Reservoir, also known as Buggs Island Lake, spans 77.2 square miles, but a significant portion of that is across the border with neighboring North Carolina. At 32 square miles, Smith Mountain Lake is the largest lake located completely within Virginia.
785 feet above sea level is considered "full pond" water level for Smith Mountain Lake. SML's level can vary daily as water is released from Smith Mountain dam for power generation and then reclaimed from the reservoir below (Leesville Lake) through a renewable energy process known as pump storage power generation (managed by Appalachian Power). During a typical week, water level may drop 1.5 to 2 feet or more as power is generated and can return to full pond in about 36 hours using the turbines as massive pumps that actually can create an up-stream current.
The ridge referred to as Smith Mountain peaks at 3,694 feet above sea level. Forming the southern shoreline of Smith Mountain Lake in Pittsylvania County, it rises 2,900 feet from the lake's surface and provides a stunning view to swimmers enjoying the clear waters in the many secluded coves at its base.
The Vipperman Visitors Center in Pittsylvania County is free, open year-round and offers a lovely view overlooking the dam. Appalachian Power used to offer occasional tours inside the bowels of the dam, but that ceased after 9/11.
At the Visitor Center you'll discover interesting exhibits that chronicle construction of the Smith Mountain Project (dam) in the late 1950s and early 1960s, the lake's filling from 1962-1966, and how power is generated at the two-lake complex. Hours vary be by season so be sure to check the website for details.
No. According to Virginia's Department of Wildlife Resources, there are no wild alligators in Smith Mountain Lake – or anywhere in Virginia except the Dismal Swamp in southeastern Virginia. The state's wintertime water temperatures are inhospitable to alligators.
No. There are no sharks in Smith Mountain Lake. You will find plenty of bass, catfish, crappie, perch, muskie, carp and sunfish, though!
Yes, Smith Mountain Lake is among the cleanest lakes on the East Coast. There are some rare, temporary exceptions. Heavy storms can agitate fecal coliform settled on the lake bottom – usually in shallow areas where waterfowl feed or breed, and occasionally near campgrounds and farm land. Since the late 1980s, Ferrum College and the Smith Mountain Lake Association (SMLA) together monitor and publish the results of water quality testing.
Smith Mountain Lake's deepest point is about 250 feet, near the Smith Mountain Dam. The average depth of of Smith Mountain Lake is 55 feet.
The average Smith Mountain Lake water temperature is 62° Fahrenheit. However, the SML water temperature is much warmer from June through October when the average is 75° F. Here is a breakdown according to seatemperature.org, which compiles data from NOAA satellite readings of surface temperatures:
Month
Average surface
water temperature
January
50° F
February
47° F
March
48° F
April
53° F
May
61° F
June
72° F
July
79° F
August
79° F
September
76° F
October
69° F
November
61° F
December
53° F
Throughout each day, Appalachian Power temporarily raises and lowers SML's water level by as much as two feet, enabling hydropower generation. Appalachian Power controls the water level according to its 50-year federal contract, balancing the needs of lake residents with downstream communities, rivers, and lakes – terminating hundreds of miles downstream at the Atlantic Ocean near Virginia Beach.
During the first 50 years of SML's existence as a reservoir (1966-2016), the lowest and highest recorded water levels were 788 feet and 800 feet above sea level. 795 feet above sea level is known as "full pond" – its highest level under normal weather conditions. During severe drought, it has fallen to as low as 788 feet above sea level.
Smith Mountain Lake's most popular fish are striped bass, largemouth bass, smallmouth bass, crappie, catfish, and yellow perch. Walleyes and muskies are growing in number. SML is among the USA's top fishing destinations – and has been the site of Bassmaster/ESPN fishing tournaments.
It took approximately 2.5 years for Smith Mountain Lake to fill. The damming of the Blackwater and Roanoke Rivers formed this reservoir in a process that began on Sept. 24, 1963 and ended on March 7, 1966. Full Pond Day at Smith Mountain Lake is celebrated on March 7 each year.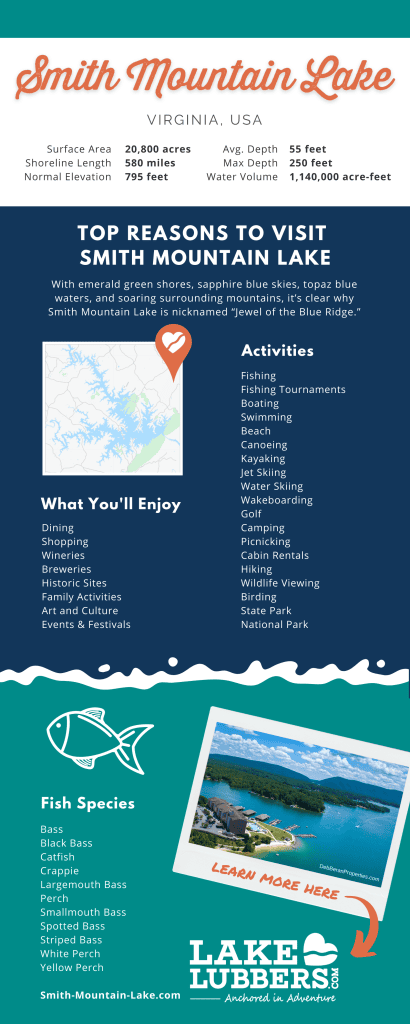 There is no hard evidence of a town under Smith Mountain Lake, but there are websites suggesting that the town of "Monroe" was submerged when the lake filled. The lake covers 20,600 acres that were mostly farm land and residences. Small family cemeteries and graves were relocated to dry land before the lake was filled, and now surround the lake.
No. Parts of that movie were filmed at Mountain Lake, near Newport, Virginia, and at Lake Lure, North Carolina.
Yes. "Lake Effects" (2012) was filmed at Smith Mountain Lake. "What About Bob?" (1991) was filmed at Smith Mountain Lake but was identified in the movie as Lake Winnipesaukee, New Hampshire.
Read more details in this fun blog post from our sister site, LakeLubbers.com: Lights, Camera, Action! Movies Filmed at Smith Mountain Lake
Smith Mountain Lake is the largest lake contained entirely within Virginia, with 20,600 acres and 500 miles of shoreline. John H. Kerr Reservoir, located partly in North Carolina, is the largest in Virginia, with a total of 49,000 acres and 800 miles of shoreline. Lake Gaston is third-largest, with 20,300 acres and 350 miles of shoreline. It also is located partly in North Carolina.
No, but that was once the well-earned nickname for Franklin County, which borders and includes the southwest portion of Smith Mountain Lake. Today, you can buy legal "White Lightning" distilled in several spots in Franklin County. The 2012 movie "Lawless" exaggerated the violence associated with Depression-era moonshining in Franklin County.
No, but Smith Mountain Lake State Park encompasses about five miles of the lake's shoreline. Nearby Booker T. Washington National Monument (Hardy, Virginia) is about five miles from Hales Ford Bridge and Bridgewater Plaza, two of the best known spots on the lake. Hales Ford Bridge is the primary crossing point on the 40-mile-long lake, dividing Bedford and Franklin counties. Bridgewater Plaza includes the official SML Visitor Center and dozens of retail stores and restaurants.
No. SML borders three Virginia counties – Franklin County, Bedford County and Pittsylvania County. Those counties together govern the lake and tax property owners on the lakefront and nearby.
There are several postal designations around the waterfront, sometimes mistakenly referred to as "towns" – Hardy 24101, Huddleston 24104, Moneta 24121, Penhook 24137, Union Hall 24176, and Wirtz 24184. Real estate is listed according to the postal designations (Moneta, etc.) rather than Smith Mountain Lake. The USPS allows residents to use only the town name "Smith Mountain Lake," so long as the correct zip code is also included (24121, etc.)
Probably not. All reservoirs go through a constant process of sedimentation, in which soil erodes into the lake from upstream, and from its banks. SML averages 55 feet in depth, deeper than most U.S. reservoirs, and is likely to survive for hundreds of years before filling in. Regulations permit a limited amount of expensive dredging by property owners to keep shallow areas passable by boats, but the results are temporary. Much of the shoreline is protected by "rip rap" to reduce erosion.

Smith Mountain Lake, Virginia: A Year-Round Beauty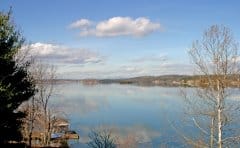 More local information for Smith Mountain Lake, Virginia: