Virginia Dare Cruises: A Fun and Easy Way to Experience Smith Mountain Lake
This site contains affiliate links. If you click and purchase, we may earn a small commission at no extra cost to you. Read our full disclosure policy.
If you're looking for a fun, easy and inexpensive way to explore Smith Mountain Lake, we highly recommend a cruise aboard the Virginia Dare.
This 63-foot replica sidewheeler has been cruising SML since 1990 and has become a true icon on our waters.
Among the largest boats on Smith Mountain Lake, the Virginia Dare can't be missed when it's on a run to the dam that created the lake or cruising up the Blackwater River Channel to catch one of our amazing sunsets.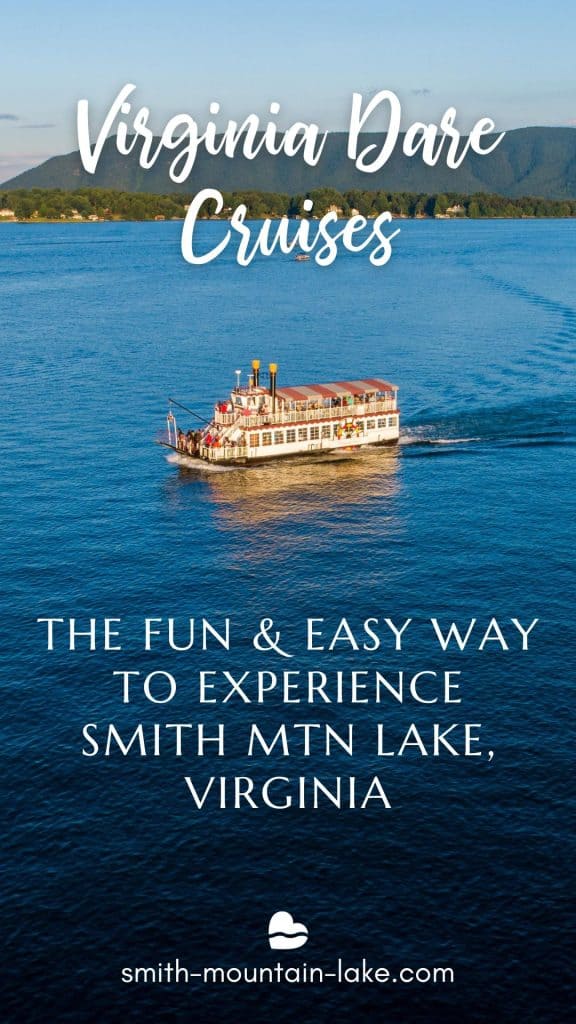 Boaters passing "The Dare" routinely give a friendly wave to the vacationers and residents who are on board for relaxed sightseeing, food and refreshments.
The weather-protected main cabin features a large bar and tables, and there is more table seating on the open-air (with drop-down clear rain/wind curtains) upper deck where people love to congregate for vantage-point viewing, especially when the weather is glorious!

How Much Does a Virginia Dare Cruise Cost?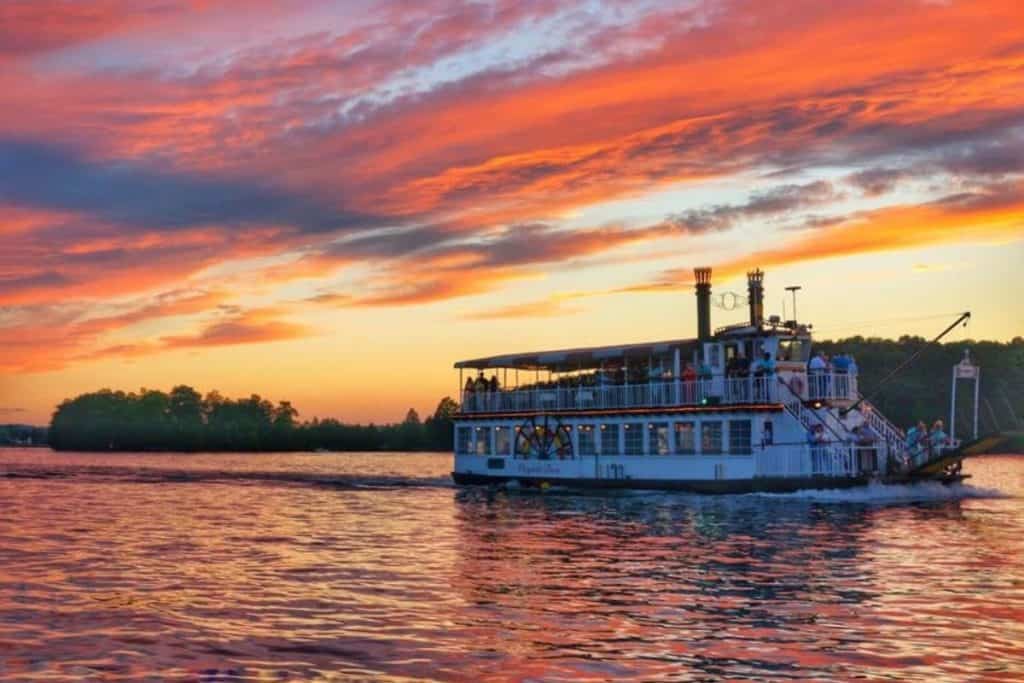 There are four categories of cruises available on the Dare, including midday and evening sightseeing trips, meal cruises, special events (Mother's Day, Father's Day, July 4th fireworks) and private trips designed around a group's desires.
The Virginia Dare Cruise schedule is available online. You may also call the main office (540-297-7100) to confirm available dates and pricing for a trip that will best fit your schedule and preferences.
Sightseeing-only cruises for the Virginia Dare Cruise boat are $30 for adults and $20 for kids under 11. Cruises that include a meal are $45 ($30 for kids). Water and tea are included; alcoholic and fountain beverages are available for purchase.
The standard Virginia Dare cruise menu features barbeque, chicken salad, sweet and sour meatballs, sandwiches and desserts served buffet-style.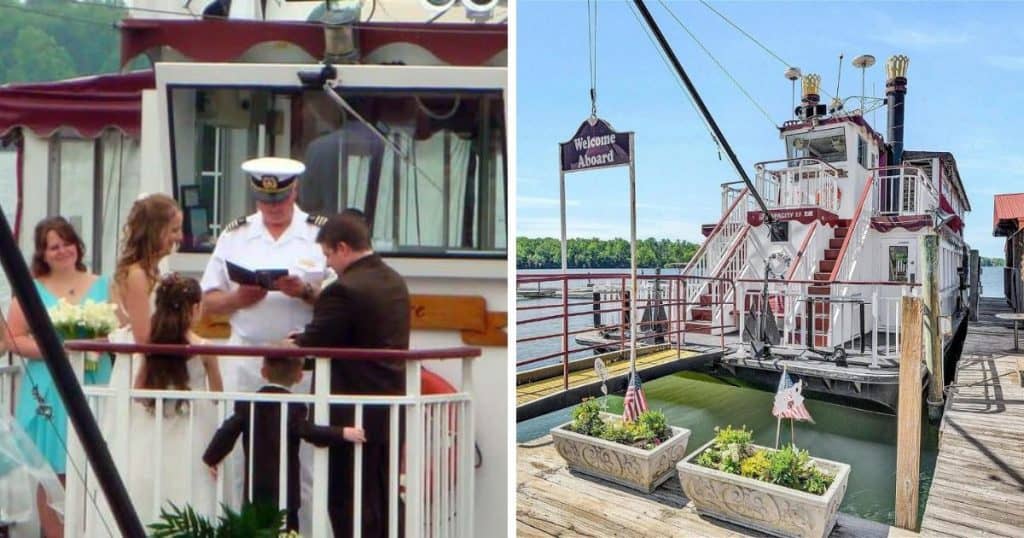 Virginia Dare cruises are also popular for Smith Mountain Lake wedding receptions, bridal parties, church and charity outings, family reunions and neighborhood groups.
Visitors to SML will especially enjoy commentary from the Virginia Dare's knowledgeable captains who share lake lore and point out notable sights along the cruise route.
Climb the stairs to the helm bridge and grab a selfie with the captain who, by the way, can perform wedding ceremonies with appropriate notice.
While on your cruise, you're likely to spot osprey nests, incredible lakeside homes with fantastic decks, patios, firepits and landscaping, as well as the mountain-top ridge known as Smith Mountain. It's hard to believe the fire road along the top runs over two miles from the western cell tower to the one nearest Smith Mountain dam.

Lodging and Restaurants at Virginia Dare Marina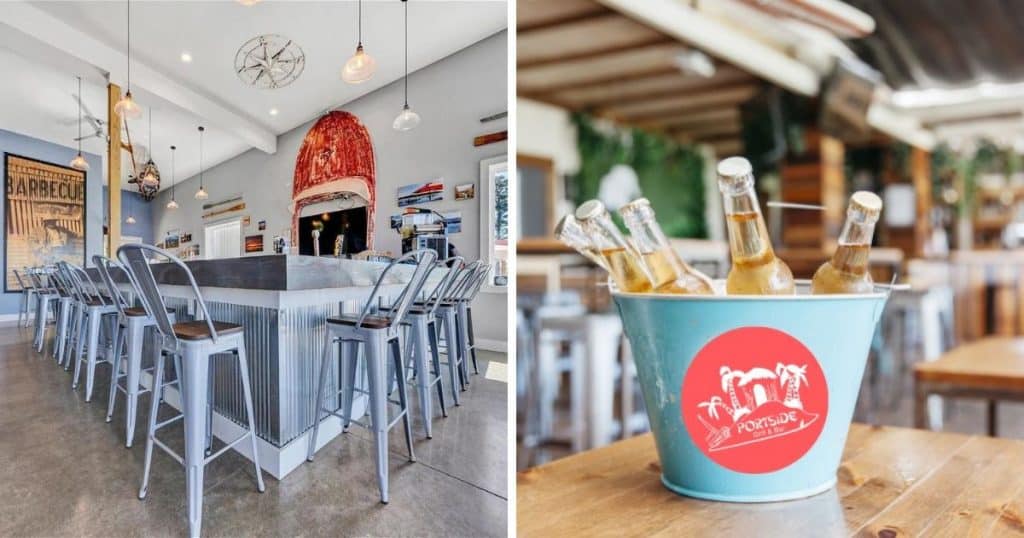 Your two-hour cruise will embark from Virginia Dare Marina near the SML's unique "S-Turn" feature. On shore you'll find the popular Beacon Seafood Pub where seafood, sandwiches, fun drinks and other delights are available in an open-air atmosphere.
Out on the pier, local favorite Portside Grill and Bar serves delicious grilled shrimp, burgers, wings and other casual dining faves during the summer season only.
Beacon has live music Friday through Sunday, including a popular karaoke and open-mic session to kick off the weekend. Portside has a laid-back, Key West vibe and often schedules live music on the weekends in season.
Related article: Smith Mountain Lake Restaurant Directory
Limited accommodations at Beacon Marina, just off Airport Road near Whitehouse Corner, include an on-shore Airbnb duplex. Two family-sized floating units are set to open later this season.

Upgrades and Events at Virginia Dare Marina
Marina owner Garret Meyer has made numerous improvements to the Virginia Dare facilities, including a major upgrade to guest docks for diners who come by boat.
Portside hosts a popular barbeque cookoff in the spring and there's been a recent resurgence of participation in the annual lighted boat parade, one of the longest running events at Smith Mountain Lake.
The Virginia Dare, decorated in its holiday finest, leads a flotilla of approximately 20 individual boats from Virginia Dare Marina to Bridgewater Plaza and back as a kickoff to the Christmas season. It's also incorporates a toy drive to benefit area youth.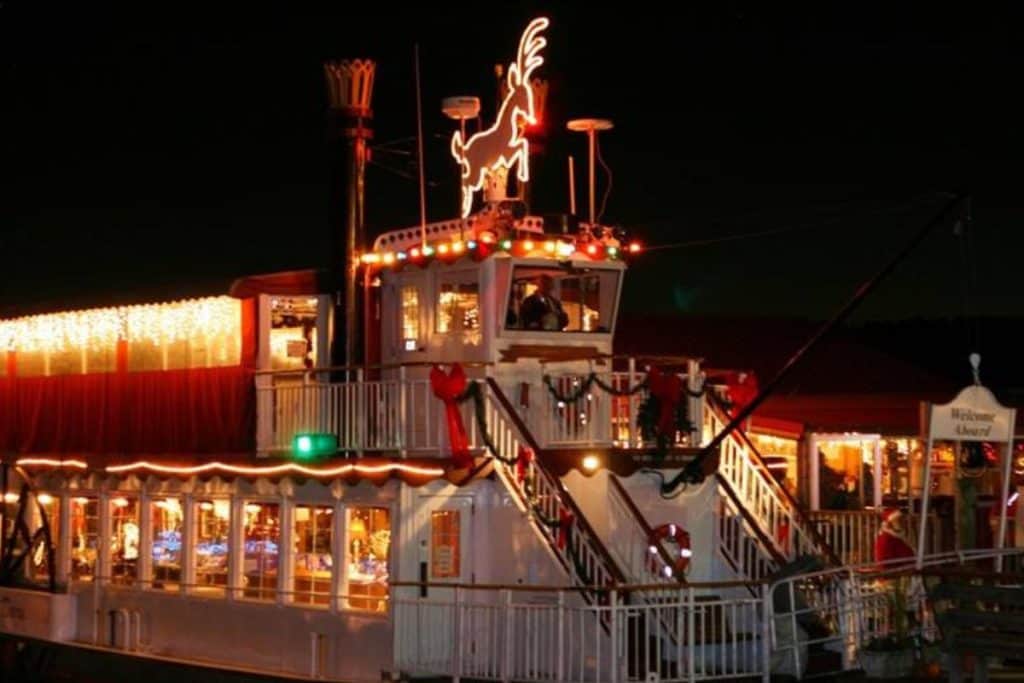 "This is a fun event for skippers, their crews and guests for the party cruise on the Dare, all of whom attend a pre-cruise party at Portside," Meyer said. "We hope to see it grow every year."
A trip aboard the Virginia Dare is sure to be one of the more memorable events of your time at Smith Mountain Lake. It's a chance to relax and enjoy the sights while a skilled captain handles the navigation and docking.
Tasty food and drink will be part of your adventure, as will getting acquainted with others who treasure beautiful vistas and good times on the water. Grab some friends and make sure a cruise on the Virginia Dare is part of the memories you make at The Jewel of the Blue Ridge!
---
The Virginia Dare Marina, cruise boat, restaurants and accommodations are currently for sale. Click here for more details!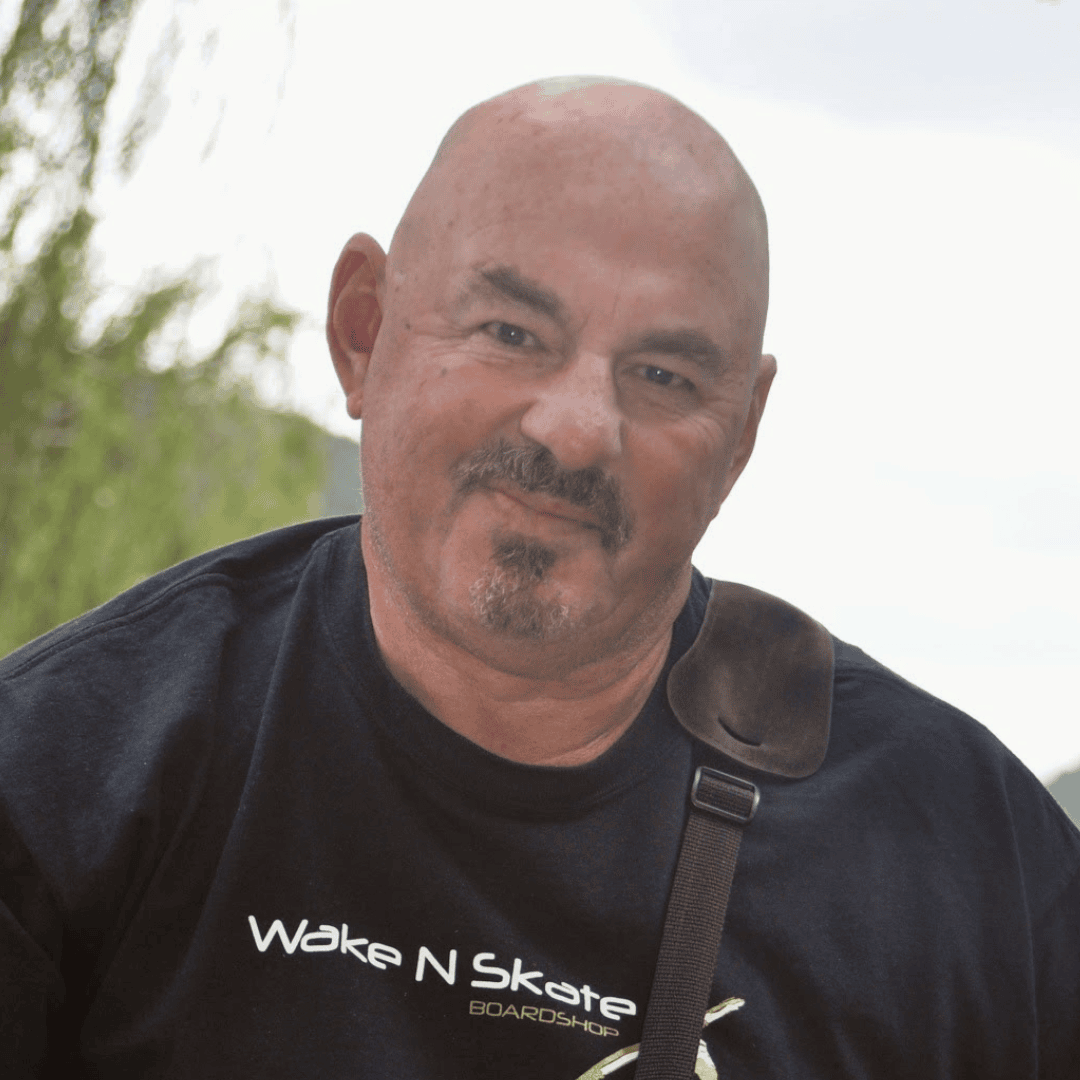 Jerry Hale
When he's not writing about the Smith Mountain Lake, you might just find Jerry out wake surfing or just idling through its coves, practicing guitar or banjo on his deck at the Cottages of Contentment Island, playing steel drums or volunteering with LCM, Trinity Ecumenical Parish, Neighbors Helping Neighbors or the SML Charity Home Tour.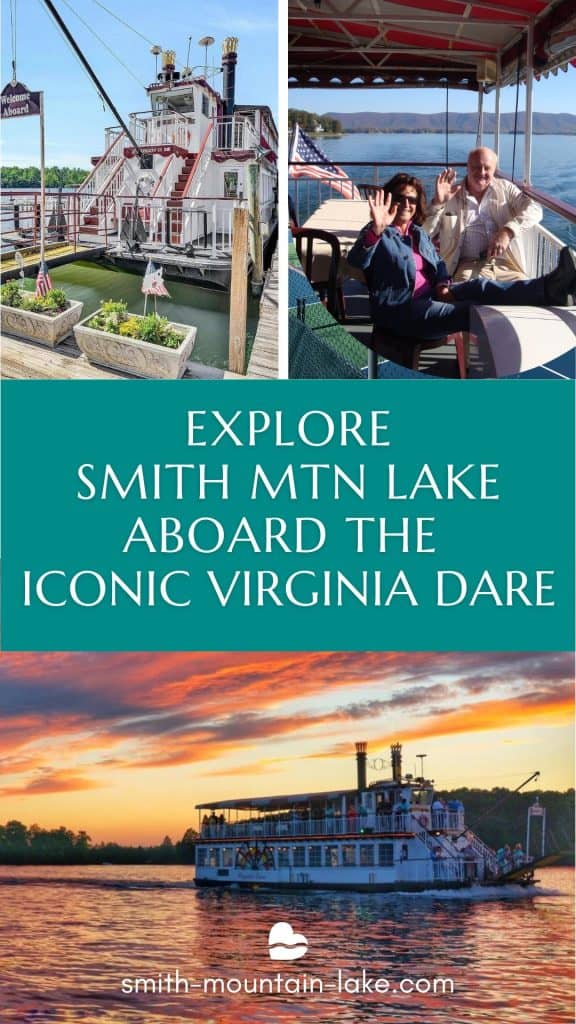 This post is sponsored by Virginia Dare Marina.