This site contains affiliate links. If you click and purchase, we may earn a small commission at no extra cost to you. Read our full disclosure policy.
Smith Mountain Lake is not just an amazing recreation destination, it's also a spectacular place to call home. Smith Mountain Lake real estate is available in a wide range of types, sizes and prices so you're sure to find something to fit your lifestyle and budget.
Temperate weather, abundant recreation options, excellent schools and a casual lifestyle are just a few of the reasons retirees, remote workers and families are drawn to our shores and opt to invest in lake property.
With 500 miles of shoreline, you can find a first or second home in a quiet cove with just a few neighbors in sight – or retire to a well-planned community with shared or private amenities that include swimming pools, fitness facilities, boat slips with powered boat lifts, and golf courses.
Smith Mountain Lake real estate is diverse and affordable, especially when compared to similar real estate on the USA's coasts. For about $150,000, you can buy a small lakefront studio or one-bedroom condo with a lake view. For $225,000-$350,000, you can get a 1,200-square-foot lakefront condo or townhouse.
For $400,000 you may be able to snag an older 2-3 bedroom lakefront home with 1,500 square feet, located on a shallow cove or a steep lot – or a modern, two-bedroom, 1,200 square-foot condo with a great view, boat slip and golf privileges. $700,000-$900,000 can buy you a well-maintained 3-4 bedroom lakefront home with 3,000-plus square feet, a dock with two boat slips and powered lifts, one acre of land and 200-plus feet of waterfront.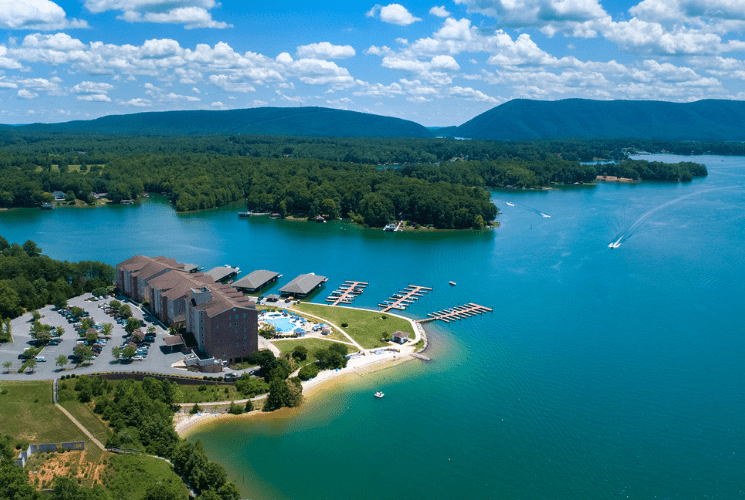 One million dollars buys a large and luxurious lakefront home with a excellent views and a deep-water dock in a premium development. Two million or more buys one of the lake's 6,000-plus-square-foot luxury homes.
Before you buy, check the lake depth at the dock. If a dock and the surrounding water don't have a depth of at least 9-10 feet at "full pond," you may be unable to use your boat during extended droughts, when water levels can drop by five feet or more. It can also be difficult to climb down (and back up) from a fixed dock to a floating dock ("floater") during drought.
You May Also Enjoy >> Living at Smith Mountain Lake: An Insider's Guide
Looking for an undeveloped lot? SML's lakefront is about 70 percent developed, but undeveloped lakefront lots are still available. You can pay $50,000 or less for a lot with water access, $100,000 for a steep lot with an inspiring lake view or $250,000-plus for a large lakefront lot that may already include a dock. For a bit more, you can buy a waterfront lot with a coveted view of Smith Mountain.
If you're considering a waterfront lot or home without a dock, ask your real estate buyer's agent (or attorney) to carefully check the dock-building regulations. You will need at least 100 feet of waterfront to build a new dock on your lot. If a dock is included, ask your agent to confirm that it was properly permitted and built according to an approved plan.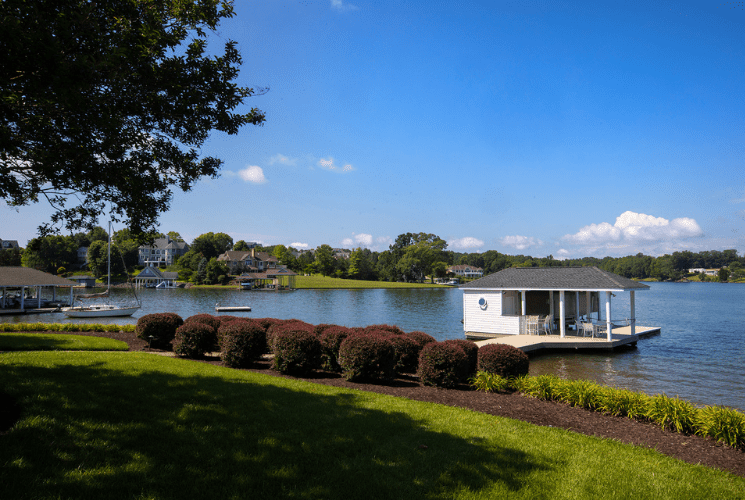 Nearly all Smith Mountain Lake homes are built above the "100-year flood plain," 802 feet above sea level. The highest flood level ever recorded was 800 (in 1987). The normal daily maximum or "full pond" is 795 feet.
If you're planning to buy a condo or house, and then offer it as a vacation rental to help pay the mortgage, be sure to first check county, subdivision, and homeowner association rules and regulations. Bedford County (on the north side of SML) is much more friendly to vacation rentals than Franklin County.
If you want to buy or rent Smith Mountain Lake real estate, or book an SML vacation rental, dozens of experienced professionals can help. Call any of these brokers with SML offices to help you to find your perfect SML vacation spot or permanent/second home.
Berkshire Hathaway SML Real Estate: 540-721-8659
Bernard's Realty Company Inc.: 540-721-1095
Buyer's Agency of Smith Mountain Lake: 540-493-7253
CB Sales & Rentals: 540-297-7000
Century 21 All Service: 877-391-2121
Deb Beran Properties: 540-721-1488
Divine Fog Realty: 540-797-4555
Keller Williams Realty: 434-534-9113
Lake Homes Realty: 540-874-5815
Lake Retreat Properties: 540-297-6002
Lakeshore Rentals and Sales, Inc.: 540-297-5610
Lifestyle & Lake Real Estate Group: 540-484-3234
Long & Foster Real Estate Inc.: 540-297-4111
Lyons Team Realtors: 540-297-7777
MKB Realtors at the Lake: 540-721-6005
ML Realty: 540-297-3679
Mountain to Lake Realty: 540-483-5566
Real Estate Rentals, Inc.: 540-489-3100
RE/MAX Lakefront Realty: 540-721-3555
RSI Rentals (Vacation Rentals Only): 540-721-9797
Settle Land and Realty: 540-529-3575
Smith Mountain Homes: 540-632-8355
Smith Mountain Lake Properties, Inc.: 540-797-0477
Smith Mountain Realty: 540-721-9002
United Country Real Estate: 540-874-2200
Virginia Realty Group: 540-676-5454
Wainwright & Co. Realtors: 540-525-0134
Watermark Realty: 540-721-5253
Weichert Realtors Bridges & Co.: 540-721-4404

If you're a Smith Mountain Lake real estate broker or agent interested in advertising, please contact us.

More local information for Smith Mountain Lake, Virginia: