This site contains affiliate links. If you click and purchase, we may earn a small commission at no extra cost to you. Read our full disclosure policy.
Looking for restaurants at Smith Mountain Lake? You'll find more than four dozen places to eat, many of them right on the water and accessible by boat.
Of course, there are also excellent dining choices off the water, plus a few fast food options. Keep scrolling for Moneta, VA, restaurants, plus those in Huddleston, Hardy. Wirtz, Penhook and Union Hall.
Table of Contents
Note: Several popular Smith Mountain Lake restaurants are seasonal (summer only) so always call to confirm hours.
SML restaurants are listed alphabetically. Those with $ are the cheapest while $$$$ denotes the most expensive.
You may also enjoy: 
Free Map: SML Waterfront Restaurants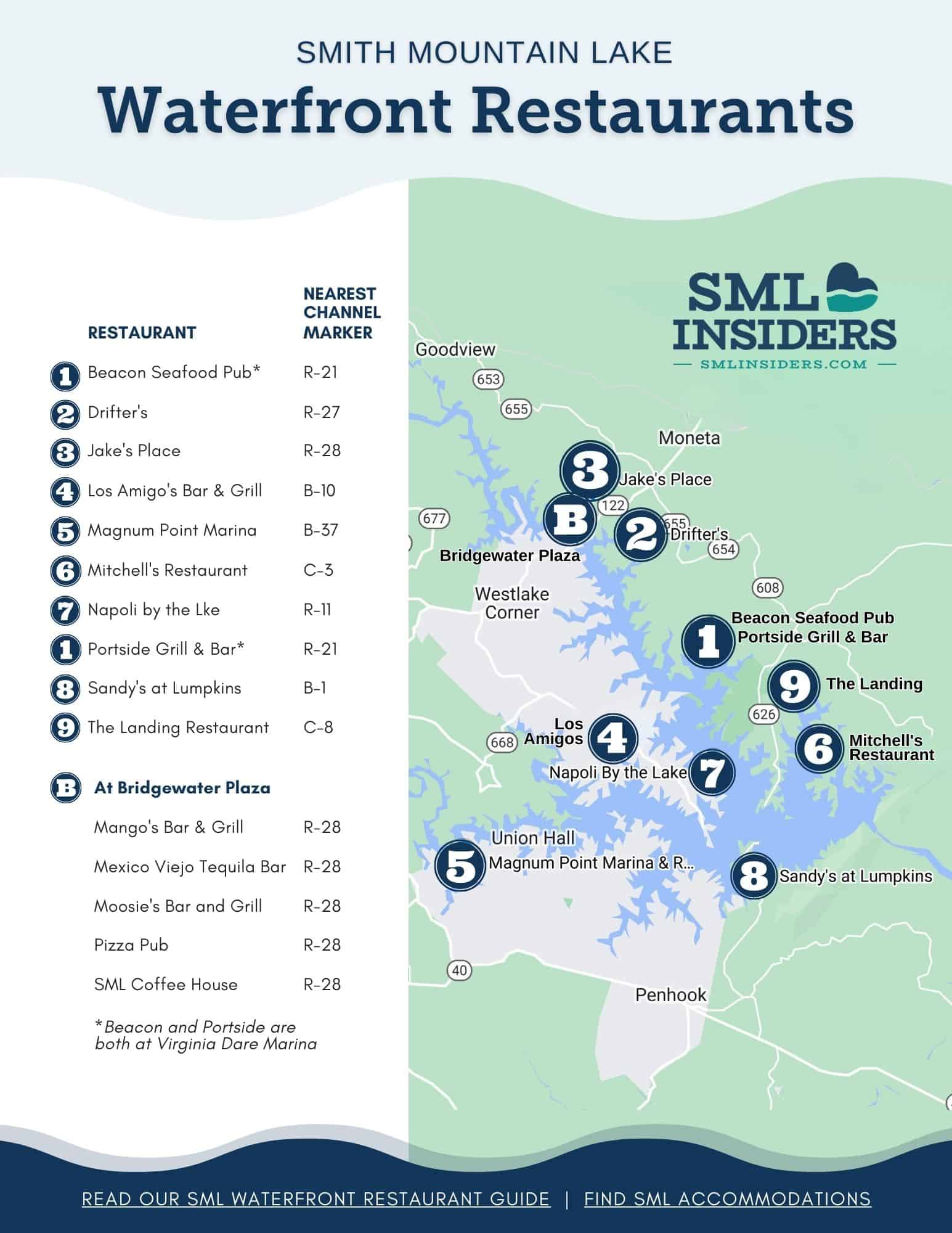 Beacon Seafood Pub
540-297-2100, Seasonal – call for hours – $$
Lunch/Dinner – Served Lakefront
Bedford County, 3619 Airport Road, Moneta, Virginia
By Boat: Northwest of Marker R-21
Visit website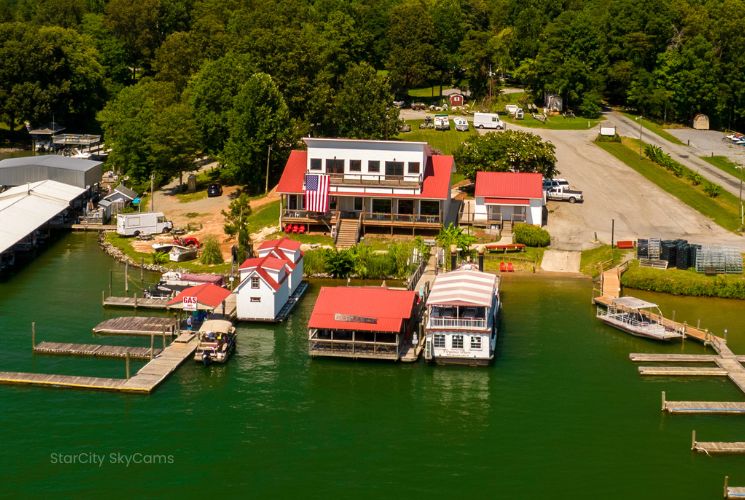 Drifters
540-297-0055, Seasonal – call for hours/days) $$
Restaurant/Pub at Lakefront; Chicken, Fish, BBQ, Salads, Sandwiches, Burgers
Bedford County, 1617 Crystal Shores Drive, Moneta, Virginia
By Boat: Northeast of Marker R-27, at Crystal Shores Marina
Visit website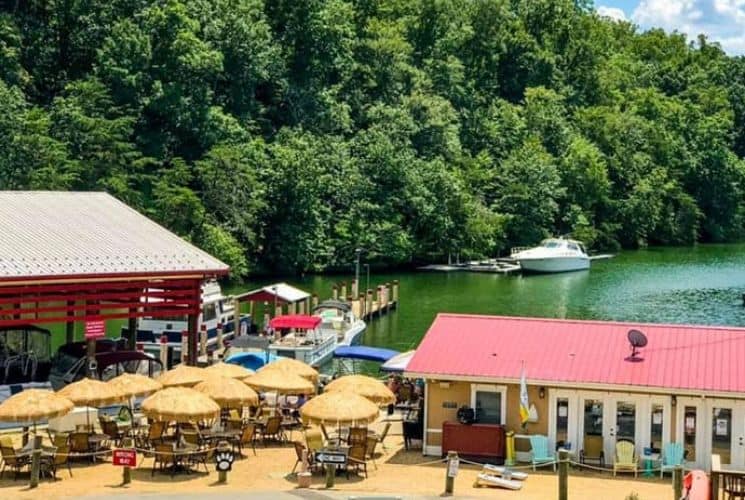 Ice Cream Boat
Seasonal – call for hours/days – $
Decked out pontoon boat serving classic ice cream treats for more than 20 years.
How do you find the ice cream boat at Smith Mountain Lake? During the summer, listen for the music and then waive down Ryan and Travis to have them stop by your dock.
By Boat: They come to you! Track where the Ice Cream Boat is on SML on the FollowMe app.
Visit website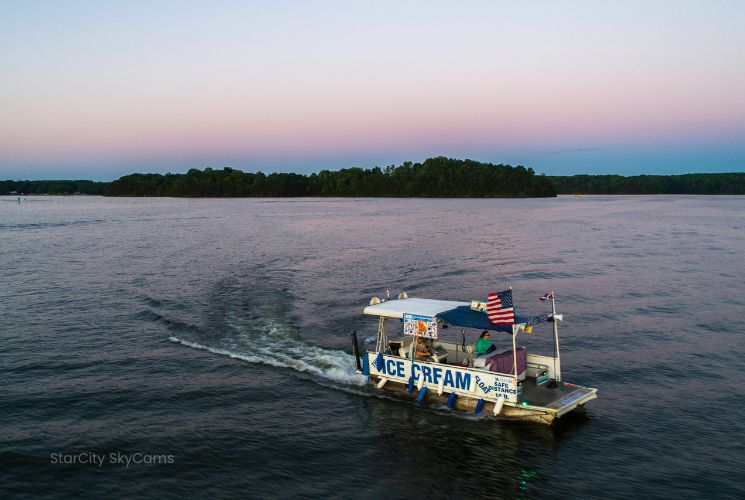 Jake's Place
540-297-4732, Seasonal Thu-Mon – call for hours – $$
Soups, Salads, Burgers and Sandwiches, Chicken, Seafood, Steak, Pizza, Served Lakefront
Bedford County, 1041 Harbour Inn Lane, Moneta, Virginia
By Boat: Near Hales Ford Bridge, Northwest of Marker R-28
Visit website
Los Amigos Bar & Grill
540-912-0221, Seasonal – call for hours – $$
Mexican Grill and Cantina, Served Lakefront
Franklin County, 404 Crazy Horse Drive, Moneta, Virginia
By Boat: At Crazy Horse Marina, Marker B-11
Visit website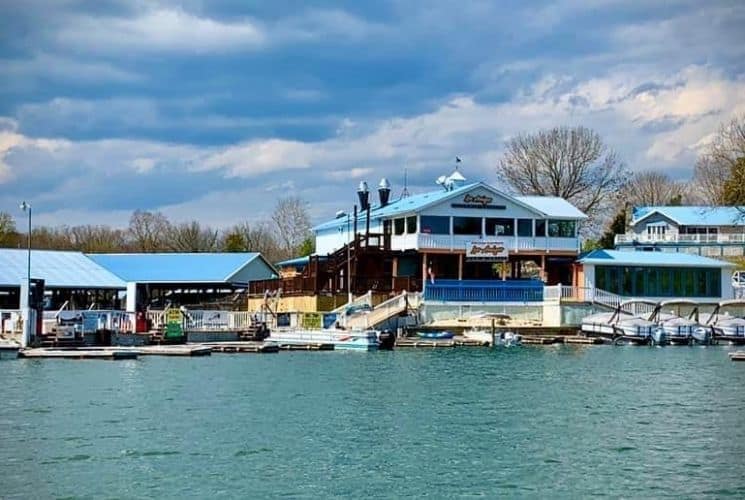 Magnum Point Marina
540-576-3001 – $$
Salads, Pizza, Sandwiches, Burgers, Occasional Live Music, Served Lakefront
Franklin County, 2200 Old Salem School Rd, Union Hall Bridge, Moneta, Virginia
By Boat: Marker B37
Visit website
Mango's Bar and Grill
540-721-1632, Seasonal – call for hours – $$
Lunch, Dinner, and Live Entertainment, Served Lakefront
Franklin County, 16430 Booker T. Washington Highway, Bridgewater Plaza at Hales Ford Bridge, Moneta, Virginia
By Boat: Bridgewater Plaza, West of Marker R-28
Visit website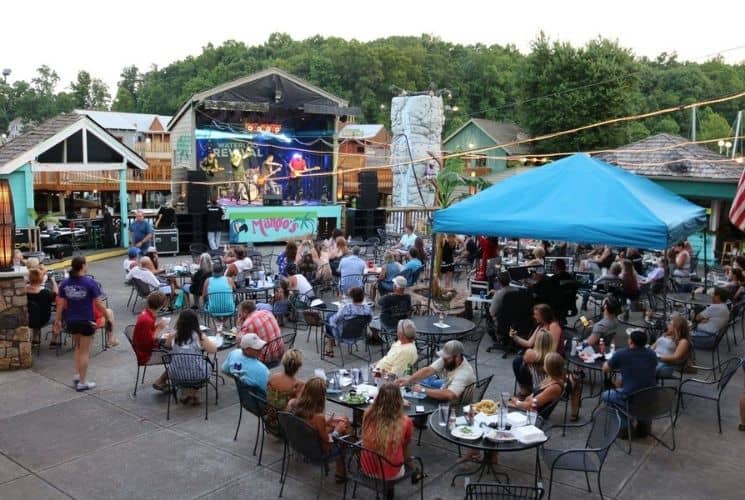 Mexico Viejo Tequila Bar
540-719-5001 – $$
Mexican Grill and Cantina, Served Lakefront
Franklin County, Bridgewater Plaza, 16440 Booker T. Washington Highway, Moneta, Virginia
By Boat: Bridgewater Plaza, West of Marker R-28
Visit website
Mitchell's Restaurant and Lakeside Pizzeria
540-296-0664, Seasonal – call for hours – $$
Wings, Pizza, Burgers, Steaks, Salads, Served Lakefront
Bedford County, 3553 Trading Post Road, Huddleston, Virginia
By Boat: Between Markers C-2 and C-3
Visit website
Moosie's Restaurant
540-721-5255 – $$
Generously-sized Sandwiches, Served Lakefront
Franklin County, 16430 Booker T. Washington Highway, 16 Bridgewater Plaza at Hales Ford Bridge, Moneta, Virginia
By Boat: Bridgewater Plaza, West of Marker R-28
Napoli by the Lake
540-238-2142 – $$-$$$
Casual/ Fine Dining, Served Lakefront
Franklin County, 773 Ashmeade Road, Bernards Landing, Moneta, Virginia
By Boat: West of Marker R-11
Visit website
Pizza Pub
540-721-1234 – $
Pizza, Sandwiches, Salads, Beer and Wine, Served Waterfront
Franklin County, 16430 Booker T. Washington Highway, Suite 10, Bridgewater Plaza at Hales Ford Bridge, Moneta, Virginia
By Boat: Bridgewater Plaza, West of Marker R-28
Visit website
Portside Grill & Bar
540-297-7100 x3, Seasonal Fri-Sun – call for hours – $
Sandwiches, Wings, Shrimp, Beer and Wine, Served Waterfront
Bedford County, 3619 Airport Road at Virginia Dare Marina, Moneta, Virginia
By Boat: Northwest of Marker R-21
Visit website
Sandy's at Lumpkins
540-927-4327 – $
Breakfast and Lunch, Homemade Biscuits, Breakfast Plates, Hamburgers, Sandwiches, Salads
Pittsylvania County, 19 Lumpkin Drive, Penhook, Virginia
By Boat: South of Marker B-4
Visit website
Smith Mountain Lake Coffee House
540-346-2023 – $
Breakfast and Lunch, Specialty Coffees, Pastries, Salads, Sandwiches, Sweet Treats
Franklin County, 16430 Booker T. Washington Highway, Bridgewater Plaza at Hales Ford Bridge, Moneta, Virginia. There are also satellite locations at EastLake Community Church and Evie's at the Lake.
By Boat: Bridgewater Plaza, West of Marker R-28
Visit website
The Landing Restaurant
540-721-3028 – $$$$
Fine/Gourmet Dining, Served Lakefront
Bedford County, 1217 Graves Harbor Trail, Huddleston, Virginia
By Boat: R-21
Visit website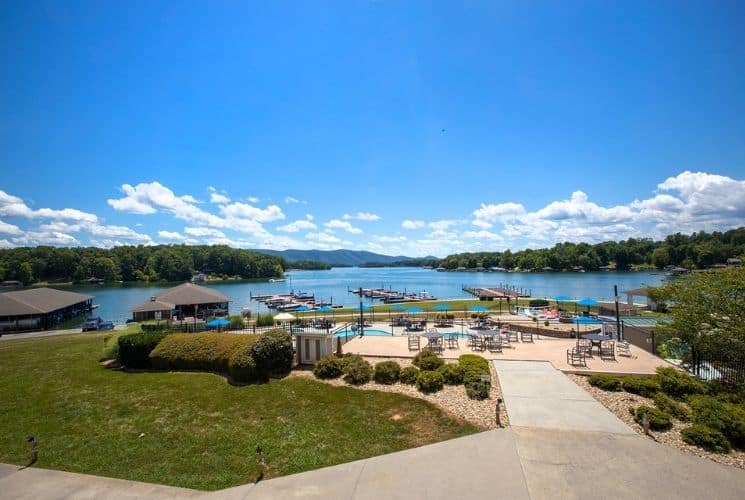 Alessandro's Pizzeria & Grill
540-296-5396, call for hours – $$
Salads, Calzones, Sandwiches, Pizza, Other Italian Favorites
Bedford County, 6724 White House Road, Huddleston, Virginia
Visit website
Benny Adelinas
540-346-2120 – $
Lunch and Dinner, Pizza
Franklin County, 84 Westlake Rd, Ste 105, Hardy, Virginia
Visit website
Blackwater Cafe
540-721-4333 – $$$
Lunch and Dinner: Sandwiches, Steak, Seafood, Chicken
Franklin County, 4730 Scruggs Road (Rt. 616) at Bluewater Dr. (Rt. 942), Moneta, Virginia
Visit website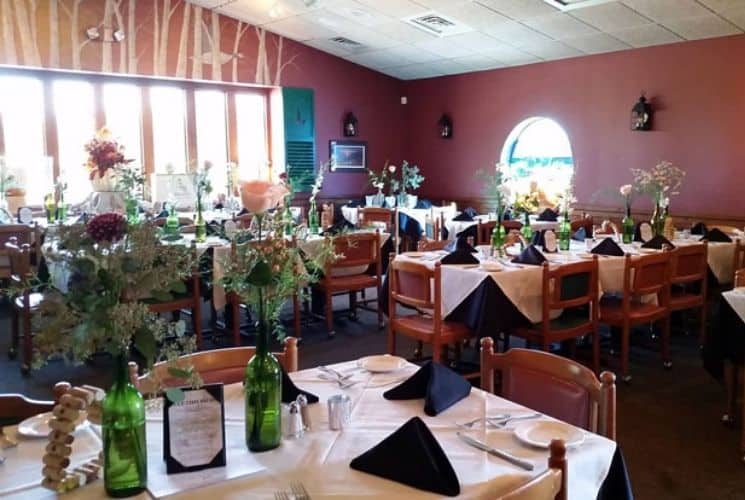 Bottles & Bites
540-328-1976 – $
Wine, Craft Beer, Grab and Go Gourmet Foods
Bedford County, 2641 Lake Retreat Rd, Huddleston, Virginia at Mariners Landing
Visit website
Bruno's Clubhouse Bistro
540-297-8180 – $$-$$$
Wood-Fired Pizzas, Salad, Soup, Sandwiches, Craft Beer, Cocktails
Bedford County, 2052 Lake Retreat Rd, Huddleston, Virginia at Mariners Landing
Visit website
Carl's Place
540-576-2838 – $
Breakfast, Lunch and Dinner, Biscuits, Burgers, Pizza
Franklin County, 15800 Old Franklin Turnpike, Penhook, Virginia
Visit website
Cattleman's To Go
540-565-00278 – $
Burgers, Subs, Tacos, Fried Chicken, Handmade Milkshakes
Franklin County, 11960 Old Franklin Tpke, Union Hall, Virginia
Visit website
Cancun Mexican Restaurant
540-719-2884 – $$
Mexican Restaurant and Grill
Franklin County, Lake Plaza, 13383 Booker T Washington Highway, Hardy, Virginia
Visit website
CJ's Coffee and Sandwich Shop
540-488-4223 – $
Breakfast and Lunch, Coffee, Pastries, Donuts, Sandwiches
Franklin County, 213 Scruggs Road, Moneta, Virginia
Visit website
Copper Kettle
540-912-0116 – $$-$$$
Brunch, Lunch and Dinner, Appetizers, Sandwiches, Salads, Burgers, Steaks, Chicken, Pasta and Seafood
Franklin County, 52 Lakewatch Drive, Moneta, Virginia
Visit website
Diamond Hill General Store
540-297-9309 – $
Gourmet Deli, Sandwiches, ABC, Breakfast/Lunch/Dinner
Bedford County, 1017 Diamond Hill Rd., Moneta, Virginia
Visit website
Edo Grill and Sushi
540-297-6888 – $$-$$$
Sushi, Sashimi, Nigiri, Hipaci, and other Japanese Specialties, Lunch/Dinner
Bedford County, 1035 Mercantile Street, Moneta, Virginia
Visit website
El Toreno Mexican Restaurant
540-721-3821 – $
Authentic Mexican Food, plus Steaks, Chicken, Pizza
Franklin County, Westlake Village, 40 Village Spring Drive, Suite #14, Hardy, Virginia
Visit website
Homestead Creamery
540-721-2045 – $
The Best Ice Cream, Cream-on-the-Top Milk, Dairy and Cheese Products, Deli Sandwiches
Franklin County, 7254 Booker T. Washington Hwy. (Rt. 122, north of Rts. 116 & 670), Wirtz, Virginia
Visit website
Hot Shots Family Fun Center
540-719-1547 – $$
Pizza, Sandwiches, Hot Dogs, Burgers, Bar. Fun for the whole family.
Franklin County, 67 Village View Lane (off Rt. 122, near Westlake), Moneta, Virginia
Visit website
Joe's Pizza & Italian Restaurant
540-721-2422 – $$
Pizza, Italian Dinner Buffet (Tuesday-Sunday)
Franklin County, 130 Scruggs Road (Rt. 616), Moneta, Virginia
Visit website
Lago Pizza
540-297-5353 – $$
New York and Chicago-Style Pizza, Steak Sandwiches, and more
Bedford County, 14600 Moneta Road, Moneta, Virginia
Visit website
Napoli Cowboy
540-238-2142 -$$$
Breakfast, Lunch, Dinner: Steaks, Seafood, Pasta, Burgers, Sandwiches, Pizza, and more
Franklin County, 6674 Burnt Chimney Road, Wirtz, Virginia
Visit website
Old Oak Cafe
540-719-3388 – $$
Breakfast "All Day", and Lunch Sandwiches/Salad Bar
Franklin County, 400 Scruggs Road (Rt. 616), Lakewood Professional Center, Moneta, Virginia
Visit website
Teriyaki House
540-719-1141 – $$
Chinese/Japanese/Thai, Eat-in or Take-out
Franklin County, 84 Westlake Road (near Westlake Cinema), Hardy, Virginia
Visit website
The Kettle Grill
540-721-4215 – $
Burgers, Sandwiches, Snacks
Franklin County, 360 Chestnut Creek Drive, Hardy, Virginia
Visit website
Tuscan Tavern Pasta & Grill
540-297-8900 – $$
Pizzas, All Types of Italian Fare
Bedford County, 16483 Moneta Road, Rt. 122, 1/2 Mile North of Hales Ford Bridge, Moneta, Virginia
Vinny's Italian Grill & Pizzeria
540-297-0000 – $$
All Types of Italian Fare, Seafood, Sandwiches
Bedford County, 16547 Moneta Road, Rt. 122, 1/2 Mile North of Hales Ford Bridge, Moneta, Virginia
Visit website
Wake Cafe
540-721-7541 – $-$$
Burgers, Sandwiches, Sweet Treats
Franklin County, 520 Scruggs Road, Moneta, Virginia
Visit website
Bojangles
540-719-2248 – $
Chicken and Sandwiches
Franklin County, 14233 Booker T Washington Hwy., Moneta, Virginia
Visit website
Subway – Eastlake
540-297-8889 – $
Subs, Wraps, Salads
Bedford County, Shoprite Shopping Center, 14600 Moneta Road, Moneta, Virginia
Visit website
Subway – Westlake
540-721-7827 – $
Subs, Wraps, Salads
Franklin County, Westlake Towne Center, 13020 Booker T. Washington Hwy., Moneta, Virginia
Visit website
Wendy's
540-721-5000 – $
Breakfast Sandwiches, Burgers, Chicken Sandwiches, Salads
Franklin County, 12890 Booker T. Washington Hwy., Hardy, Virginia
Visit website

More local information for Smith Mountain Lake, Virginia: