Smith Mountain Lake is a refreshingly different destination in the picturesque Blue Ridge Mountains of Virginia renowned for its scenic natural beauty, rural charm and amazing recreational activities.
If you're looking for a family-friendly vacation spot, a remote work retreat or an idyllic location for a permanent or second home, Smith Mountain Lake is hard to beat for so many reasons!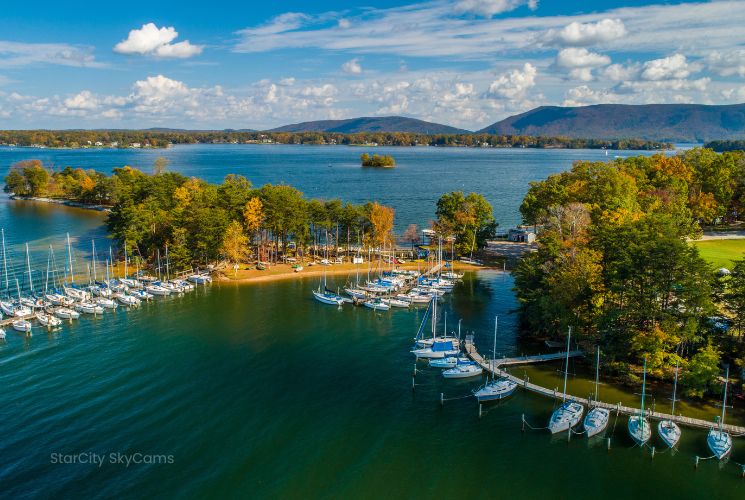 Ready to Dive In?
We invite you to sign up for our e-newsletter where we share SML news and events, travel planning tips, excursion inspiration, deals and coupons.
---
Smith Mountain Lake Vacation Home Rentals
In a hurry? Use our handy interactive map to search for SML vacation properties at a glance, then quickly book SML home rentals and hotels with ease.
SML self-catering vacation rentals are offered by the week, long weekend, month and longer – directly from homeowners and from vacation rental property managers.
Rates vary by season, size of rental and included amenities. Most are bargains compared to other lakefront, oceanfront and resort vacation rentals in the USA. Some Smith Mountain Lake house rentals include a dock for your boat (or the one you can rent while you're here).
Free SML Lodging eBook
Plan your stay the easy way with our FREE Ultimate Guide to Smith Mountain Lake Lodging eBook! In it, you'll find comprehensive info on booking the best:
Rental homes, condos, cabins and cottages
Resorts and conference centers
Hotels, motels and lodges
Bed and Breakfast Inns
Houseboats
Campgrounds
PLUS, links to our favorite vacation planning resources to make your next trip to Smith Mountain Lake the best ever!
---
Other Places to Stay at Smith Mountain Lake
June-August rates for most waterfront Smith Mountain Lake vacation rentals run from $700-$15,000 per week, with size and amenities (rather than geographic location) the primary determinant of cost. During peak season, you'll typically need to check in and out on a Saturday, and rent for a full week.
In the 4-6 weeks preceding and following summer you can expect warm pleasant weather, fewer visitors, modest discounts from peak rates, flexible check-in and check-out dates – plus weekend and daily rate options.
Generally, in mid-October through mid-April, you can expect mild weather, fewer visitors, discounts of 20-50 percent on your vacation rental, flexible check-in and check-out dates – plus weekend, daily, and monthly rate options.
---
Family Fun Year-round at Smith Mountain Lake
Visiting Smith Mountain Lake is a real treat, especially for outdoor lovers. Among the lake's many water activities are power boating, canoeing, sailing, swimming, fishing, water skiing, wakeboarding, wakesurfing, standup paddleboarding and jet skiing.
SML's lakefront includes six free public boat launching sites, plus paid launches at more than a dozen marinas. In addition, some lakeside developments maintain their own private ramps. Get more details from our directory map of boat ramps and local marinas.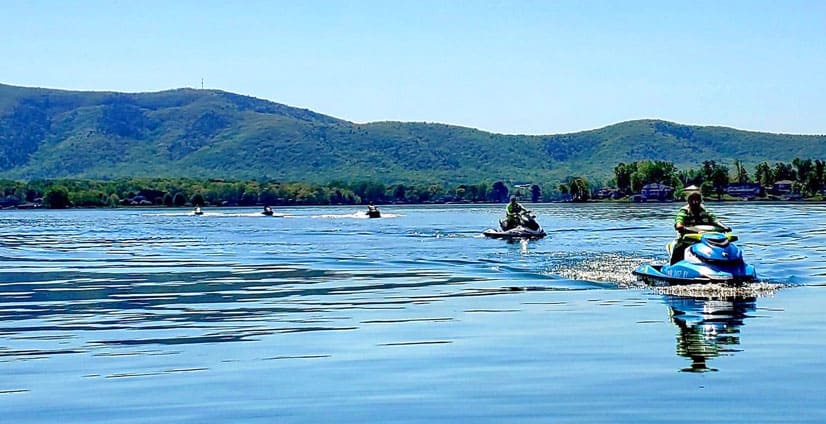 Off-water you'll enjoy sightseeing that includes many spectacular views of Smith Mountain Lake's gently mountainous 500-mile shoreline, plus peaks and ridges along the nearby Appalachian Trail and Blue Ridge Parkway.
Four challenging golf courses surround the lake (two private, two public).
The SML State Park and Franklin County's Smith Mountain Lake Community Park both include public access beach areas and miles of hiking trails. Smith Mountain Lake beaches are also available at a number of vacation rental homes.
The lake also offers picnicking, camping, hunting, antiquing, shopping, and relaxing. Restaurants on the waterfront and nearby offer everything from pizza and sandwiches to prime rib buffets and gourmet cuisine.
Well-maintained, winding roads with often-narrow shoulders make bicycling unsafe. (Drivers: Please pay careful attention to the road ahead at all times.) Most land and water activities are available at the State Park or within a short drive… so rent a lakeview or lakefront vacation home, and enjoy yourself for a week or two!
---
Boating on Smith Mountain Lake
When you boat at SML, please be careful and courteous. The Virginia Department of Wildlife Resources is an excellent source of information about safe boating, boating laws, and public access launches/ramps. Below are some important highlights for new boaters at SML.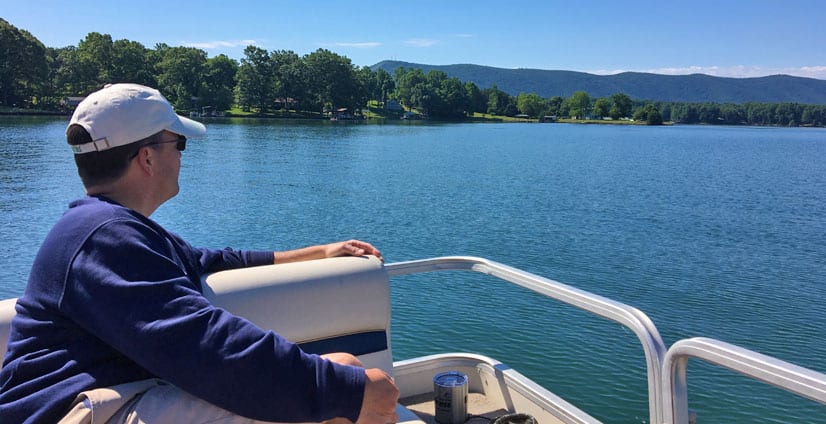 Boating Courtesy and Safety at Smith Mountain Lake
Smith Mountain Lake is Virginia's busiest recreational freshwater body of water. In 2006, the Virginia Assembly increased funding for enforcement of boating safety and noise laws; Virginia's Department of Wildlife Resources (formerly the Virginia Department of Game and Inland Fisheries) increased the number and visibility of patrols on the lake's 20,600 acres.
In 2007, the Virginia Assembly passed a law mandating safe boating education for operators. If you don't have a valid Virginia boater's license and plan to rent rent from an SML marina, you must present a valid driver's license so you can be temporarily licensed by watching a safety video and completing an in-person orientation.
SMLA successfully lobbied for the boater safety education mandate, but their request for boating speed limits failed to pass the Virginia legislature in 2007 and 2008. There are currently no boating horsepower limits on SML.
Boat Rentals and Sales at Smith Mountain Lake
Several companies on SML's shoreline rent and/or sell power boats – pontoon boats, deck boats, ski boats, PWCs, fishing boats, house boats, and more. Many also sell marine gas and rent kayaks, paddle boards, tubes, skis, wake boards, knee boards, and more. For more information, see our list of boat rental companies.
Smith Mountain Lake Public Boat Launches / Ramps
Public boat launch ramps are plentiful here, so getting on the water won't take all day. Visit our SML public boat ramps and marinas page for a complete list.
Smith Mountain Lake Marinas
Full-service marinas around the lake are a great place to park your watercraft and enjoy a lake day from land. Many marinas here are also a great place to rent watercraft, fill up your gas tank, get snacks or even a stop at a restaurant to grab breakfast, lunch or dinner.
Visit our SML public boat ramps and marina map page for more details.
Smith Mountain Lake Custom Wood Maps
This stunning, personalized lake house sign will add a special touch to your Smith Mountain lake home, cabin or cottage! Each order is custom designed with your exact specifications and sent to you for review before production begins. Available in multiple sizes and frame options!
Smith Mountain Lake Development
Until 2007, the rapid pace of development had residents and three county governments scrambling to protect the lakefront environment and to provide new infrastructure. The recession slowed development and reduced those pressures, but new construction is again underway.
Lake water quality is preserved as responsible new home construction retains natural waterfront buffers of native trees and vegetation that filter lake pollutants like lawn fertilizers and pesticides. SML water quality is excellent, largely due to the vigilance of organizations like the Smith Mountain Lake Association (SMLA) and Tri-County Lakes Administrative Commission (TLAC).
All three lakefront counties forbid the feeding of geese and other waterfowl within 500 feet of the lake to help control fecal coliform. Franklin County enforces regular five-year maintenance and pump-out of septic systems near the lake. Boaters and homeowners may not dump wastes of any kind into the lake, including fallen leaves.
SMLA has recorded and publicized water quality test results continuously since 1987 – a database that is unmatched by any other major lake in the USA – supported by dozens of residential volunteers and by generous Ferrum College faculty and students.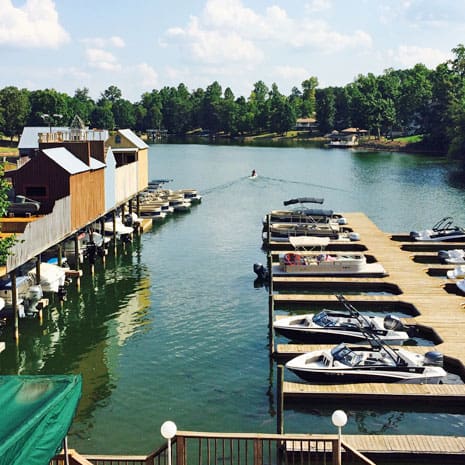 Three counties border Smith Mountain Lake, Virginia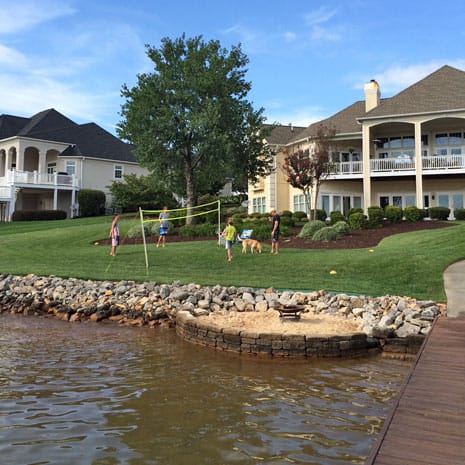 Residential property taxes in all three lakefront counties are about 50-62 cents per $100 of fair market value; a $500,000 property is taxed at about $3,000/year. Properties are reassessed once every four years. The 2019 Franklin County assessments of lake-area homes increased by 3% compared to 2015. Throughout Virginia, there is no reduction of taxes for primary homes or for low-income or retired homeowners. Homes are assessed at fair market value, and everyone in a county pays the same property tax rate.
There is no "town level" of government at here, so the three lake-surrounding county governments provide safety and public services and infrastructure needs. Private wells and septic systems are most common, but public water and sewage system availability is growing. The lake itself is a growing source of public water.
Here are some ways to better understand SML development issues:
Subscribe to the weekly Smith Mountain Eagle newspaper;
---
How the Smith Mountain Dam Works
Built and operated by Appalachian Power Company, Smith Mountain Lake and Dam (the "Smith Mountain Project") was first conceived in 1924. But many considered the project impractical until the pouring of concrete at Smith Mountain Gap began in June 1961.
By November 1962, Virginia roads and bridges that would be affected by the lake had been rebuilt. On September 24, 1963, the Smith Mountain Dam was closed and the lake began to form. Two and one-half years later, on March 7, 1966, the 20,600-acre Smith Mountain Lake reached full pond at 795 feet above sea level.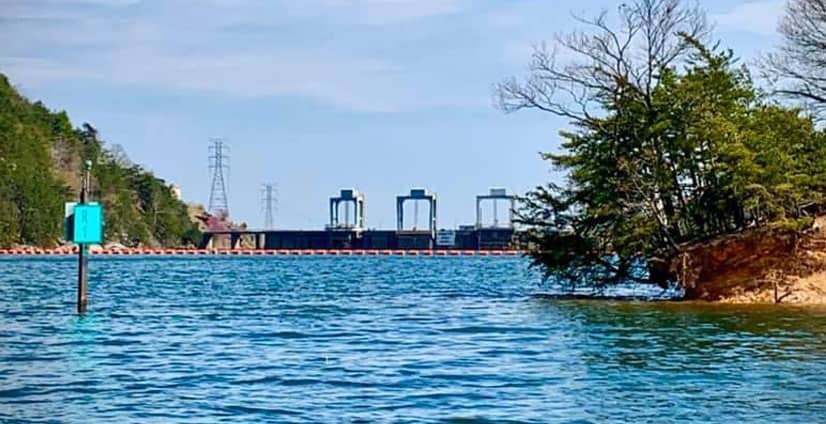 Smith Mountain Dam is 235 feet tall, 816 feet long, and 30 feet thick. Its five hydroelectric power-generating units produce 656,000 kilowatts. The first four units cost $66 million in 1964; the fifth unit cost $37 million in 1979.
The operation of Smith Mountain Dam uses two natural resources, water and coal, through a process known as pumped storage. Water from Smith Mountain Lake goes through turbine generators in the Smith Mountain Dam powerhouse and produces electricity.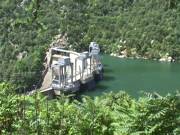 Instead of the "used" water rushing downstream, much of it is caught by the Leesville Dam, a smaller dam below Smith Mountain Dam. The water is then pumped back into Smith Mountain Lake and used again. Some passes through turbine generators in Leesville, making more electricity.
Since electricity demand is highest on weekdays, generation usually takes place then. Then, at low demand times – nights, holidays, and weekends – water is pumped from Leesville back to Smith Mountain Lake.
The power to pump water comes mostly from American Electric Power via transmission lines. Since power plants work most efficiently near their full load levels, the pumped storage benefits the Smith Mountain Lake Dam power plant by keeping loads high.
---
Smith Mountain Lake Real Estate
Smith Mountain Lake offers a wide range of housing types and real estate prices, on the water and off. From one-bedroom starter condos to magnificent waterfront estates, you're sure to find the perfect spot to call home here. Read more.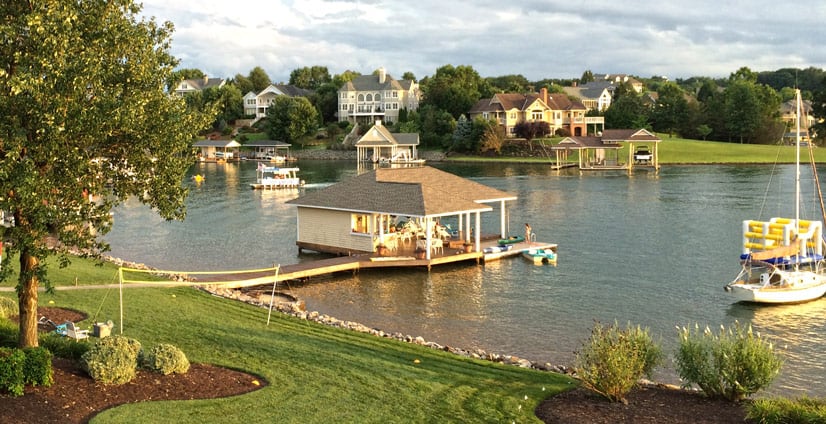 Considering a move to SML? Visit our Real Estate Agent Directory for a list of experienced professionals that service the entire SML area.